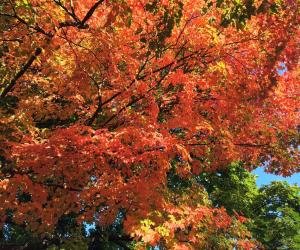 Autumn Last Year
The leaves outside my window right now are still green and our big front tree has gone a sort of gentle yellow, but not nice enough to bother taking any pictures. I've given up on autumn, I just don't care anymore. I'm going to do "self-autumn" which is where I just don't care about anything. In celebration of this momentous decision we've done a decently lengthed podcast explaining why we didn't record one last week, and why everyone–and I know this will shock you because we never ever say this–should go to church, and why Christians remarking on Christian persecution is not the same as indulging in victim culture or anything like that. Also, I try to explain Carl Trueman's argument and don't do a very brilliant job. It's about what you would expect. Hope it makes your Monday all that.
Let's see, I have almost no links, but I did love this.
This was very interesting.
We made this yesterday and it was pretty good. Needs some tweaking but definitely worth the effort.
Here is Matt's talk about Tolkien (I think I linked it last week but I can't remember)–so good.
And here is a helpful class and last week's excellent sermon by our assistant on the rich young ruler.
And I am so sorry! I haven't been online, I've been trying to be sane. It didn't work, so maybe I'll dispense with that and just read the internet again. In the meantime, have a nice day!