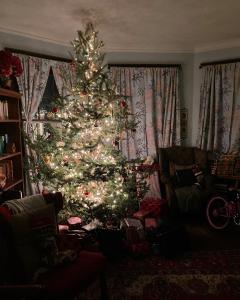 Merry Christmas! In spite of being excessively tired, Matt rousted me out of my stupor to do a mid-lengthed podcast about all the Christmas festivities. We talk about our pets, our children (in that order), the food, what's wrong with everything, and what we got for Christmas–all with a garnish of politics to keep it spicy. It's pretty much what you would need to jolt yourself back into regular life, I think. Actually, I'm not sure, I'm too tired to know.
Let's see, gosh. I have no idea if I have any links. It's been a while since I went looking for any.
This is cool.
So is this.
This is delicious.
So is this.
Here is a helpful class.
And that, I'm sorry to say, is all I've got. I'm going back to sleep. Have a nice day!