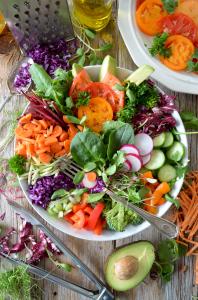 Wait! That's not a bowl of chocolate!
Well, this sure sounds depressing. Apparently, eating "comfort" food is not the best way to make yourself feel better when you're depressed. If you really want to feel better and not so sad, you have to eat kale and vegetables and things like that. Science Hath Spoken :
The first intervention to test dietary changes as a treatment for depression included 67 patients, all of whom had poor diets consisting of a lot of processed and sugary foods, with very little fruits, vegetables or fiber. About half the patients were given nutrition counseling for a Mediterranean-style diet, as well as food baskets containing sample foods, recipes and meal plans. The rest of the group met weekly to chat and receive friendly support, but diet wasn't discussed. At the end of the three-month study, the food group showed significantly greater improvement in depression symptoms, and a third of them had achieved full remission, compared to just 8 percent of the social support group. The effect has been seen in larger studies too. A four-year study of more than 10,000 university students in Spain found that people who closely followed a Mediterranean diet were at lower risk for depression. Australian researchers examined food diaries of 12,385 randomly sampled adults from an ongoing government survey. They found that higher fruit and vegetable intake predicted increased happiness, life satisfaction and well-being. The psychological gains were equivalent to moving from unemployment to employment. And people who changed their diet to include more vegetables saw mood improvements within two years.
I mean, I feel like, of course, we must all know this. The whole point of being human is that, knowing what would be good and all that kind of thing, we all together, as one, perversely pick the thing that will not be good for us because whatever is good sounds boring and foolish. I wonder if the New York Times will discover this astonishing idea at some point? HashTagSelfCare
As for me, I am pretty happy because I have been doing the two awful things that are scientifically proven to become thinner: Eating Less Food (oh my word, this is so devastating) and Taking A Lot Of Exercise. I am happy to report that I have lost a whole pound. It must be, I am sure, that I am just replacing all of my fat with muscle, which, as you know, is much heavier. That's what I tell myself every morning as I nibble my one prune and stare dolefully out of the window at all the stupid snow.
I mean, all hyperbole aside, I shouldn't forget to point out this important statistic found at the end of the NYT piece:
People who regularly eat dark chocolate have a 70 percent reduced risk of depression symptoms, according to a large government survey of nearly 14,000 adults. The same effect was not seen in those who ate a lot of milk chocolate. Dark chocolate is packed with flavonols, including epicatechin, but milk chocolate and popular candy bars are so processed they don't have much epicatechin left in them.
I find that Dark Chocolate is even more effective against depression if you do what Nigella does to it, which is to melt it, immersion blend it with cream, fortify it with an egg, a dollop of brandy, another dollop of vanilla, pour it into little pots, keep them in the back of the fridge, and then eat them for breakfast instead of the prune because, I kid you not, if you don't eat very much else of anything, you can still lose that pound. And now, if you'll excuse me, I have to go on my long fridged walk. Have a nice day!
Photo by Nadine Primeau on Unsplash