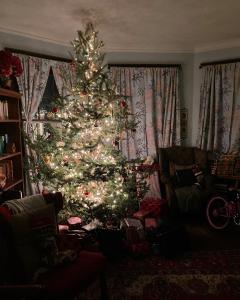 This tree is from last year. We haven't found one yet for this upcoming Feast.
It is a bright, crisp day here in the Northeast and so we've rousted ourselves to do a moderately lengthed podcast about whether or not it is ok to tell your children about Santa. Matt insists that he has never been told about the non-existence of Santa and to get off his lawn,. We go through an Ask John Piper Transcript to explain why we think Piper is so wrong. It's all you can possibly expect from us, and I hope it makes your week all jolly and bright.
Here is the John Piper piece.
Here is the podcast I did with Melanie at CRJ about St. Nicholas.
And here is the article! It looks like it just came out. It's paywalled, which means I'm sure you long to subscribe to CRJ so you can read it! Give yourself the gift of CRJ this Christmas, you deserve it.
I just started following this Twitter account and I love it so much.
Oh, and here is the thing about Disney.
And here is a helpful class. Fantastic sermon back next week.
Have a lovely day!