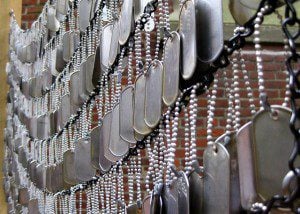 I have two, often-overlapping, "target pastoral audiences." The first are the "nones," as they have come to be called in recent religious surveys.  Youth ministers often know all about these "nones": young people self-identifying as religiously unaffiliated.  Most, if not all, of them received inherited traditions of one sort or another, but in the intervening years between childhood and adulthood, they've "divorced" themselves from these traditions.  According to the Pew Research Center on Religion and Public Life, the "nones" are among the fastest growing groups in the American religious landscape.
My second target audience are Christian soldiers and veterans.  As an Air Force veteran, having come of age around 9/11 and the ensuing wars on terrorism, I'm keenly aware of the pastoral concerns of those (mostly young people) who've served in the military and fought those wars—a smaller percentage of the American population than at any time in the country's history (read more here and here).  There's often a loss of faith—or a dislocating of the personal responsibility of faith—among America's soldiers and veterans who come from Christian backgrounds.  I've found there's much overlap between these two groups, the "nones" and Christian soldiers/veterans, particularly in their experience of God's absence.  My pastoral goal with both of these groups is not their conversion to traditional forms of Christian faith, but, rather, to learn what they have to say of value to the Church Universal—to listen to them.
Bill Mahedy, an Augustinian monk-turned-Episcopal priest, served in Vietnam as an Army chaplain, and later helped to found and develop many of the Veterans Administration treatment programs still used today. His own journey alongside those Vietnam vets has shaped, for me, what it means to minister with people who've suffered great trauma, pain and loss.
Central to his argument is the notion that the American Church, and America in general, has run afoul of its supposed "biblical roots" in its idolatrous embracing of American civic religion (which, he says, makes use of biblical language to undergird a form of pagan nationalism). This idolatry has infected the country since its inception, and has led to a one-sided appropriation of the biblical paradox: that God is both present and absent at the same time. American civic religion holds to a God who is ever-present, ever-provident, coldly steering the ship of America from the distance of the heavens.  This is not the God attested in scripture.
Neither is this the God experienced by Vietnam vets, according to Mahedy. Most Vietnam vets were raised on "Jesus Christ and John Wayne," a colloquialism describing the theo-cultural "system" into which most Americans were indoctrinated in the 1960s. In this system, God is all-powerful and ensures Americans (read: primarily straight, white, male Americans) are always on the "winning" side of history.  The people who served in Vietnam were often quickly divested of this notion after experiencing the violence, savagery and sin of war, because if God is so great and good, why did God not intervene to stop the madness? The fact that God did not led many veterans to lose their faith in that God.
Critical to Mahedy's account is the immense spiritual loss endured by so many veterans after the experience of combat.  In his view, this spiritual loss, or "dark night of the soul," is actually what allows Christians to move into an authentic, biblical faith.  A large part of this loss is the confrontation, by these Vietnam veterans, of their own human capacities for evil and sin.  This "loss of innocence" is connected to God's absence, because, "how could God love or even be present to a murdering rapist like me?" Mahedy gives voice to the cry of the sinner, much as Jesus does in Luke 18 with the publican beating his breast in the back of the temple.
Mahedy claims there's pastoral need both for the full inclusion of soldiers and veterans in the life and communion of the church, and for the listening of the American Church to the prophetic cry of veterans to reject its idolatrous appropriation of war and civic religion as a violence that rapes and murders creation. Mahedy insists upon God's absence as both prophetic and necessary for the healing process.
For youth ministry, this means Christian soldiers and veterans can teach us, as the American Church, to live a more fully biblical faith by rejecting our triangulations of comfort and wealth, and also our scapegoating of "that enemy over there."  These soldiers and veterans, who've witnessed (and perpetrated) firsthand the dark underside of Empire, can teach us that, perhaps, we are the enemies, and God left our side long ago to live and suffer among our victims.  Of course, the only way out of such a dark realization is through that darkness, from sin, to conviction and then repentance.
Implicit in Mahedy's writing is a connection between the "dark night of the soul" experienced by veterans, and the loss of faith inevitably resulting from our shared system of idolatries.  Within this system, we, as comfortable Americans, must listen not only to the cries of Christian soldiers and veterans, who know sin personally, but also to the cries of the "nones," who at the very least seem to have caught onto the deep hypocrisy of our American civic religion.
As youth ministers, we must hear these voices as they point out the ways in which the gods we create are works of our own hands, that they must die, and that the great God of grace, who can't be contained by our language or experiences, comes to us in unexpected ways.  We must help the youth we serve to see how we're often God's enemies by our own choice, and we must learn to accept the grace freely offered and repent of these things.
In this season of Advent, we must embrace God's present absence as we await the Kingdom yet to come.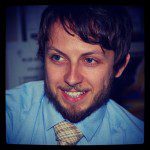 Matt Moorman is, among other things, an MDiv student at Union Presbyterian Seminary Charlotte, an inquirer for ordination in the PC(USA), Church Educator at the Church of Reconciliation in Chapel Hill, and husband to Emily.  He has worked in the field of youth work and advocacy in some form for over ten years, in places like Raleigh, Philadelphia, and Dublin, Ireland.  In addition, he is an Air Force veteran and serves on the Board of Directors of Centurions Guild, an education and advocacy organization committed to resourcing church leaders for ministry with veterans and service members of faith.