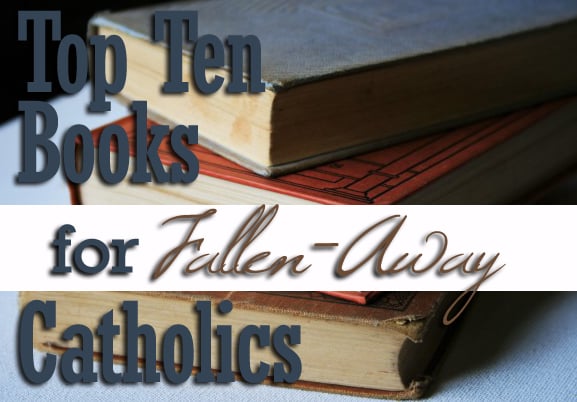 I have just started some of the publicity for my new book, The Prodigal You Love: Inviting Loved Ones Back to the Church and I have found that a lot of people want to buy the book to give to their fallen-away loved ones.
I don't think this is a bad idea.
I actually think my book would be helpful for fallen-away Catholics who are open and lingering around the door, wondering whether to make a move. It also would be helpful for Catholics who are going to church regularly or semi-regularly but need a boost. Or for Christians interested in a Catholic perspective on evangelization. Basically, my book has a pretty wide potential audience, although the main audience is clearly active Catholics who are concerned about loved ones who are away from the faith.
But for some groups of fallen-away Catholics, especially those who are really alienated from the Church, my story as an atheist-turned nun plus evangelization advice may not be particularly moving or interesting. (I say "may" because the Holy Spirit can do anything so give my book to someone if you feel inspired!)
I recently met a woman who is an atheist and I mentioned to her that I also used to be an atheist.
"Whatever floats your boat," she said and shrugged her shoulders.
I understand. I used to be one of those people.
But I also understand the desire that some Catholics have to give a book to their loved ones who are away from the Church.
So, I asked some of my former fallen-away Catholic friends for ideas and we came up with what I think is a pretty good list of books that do not have Catholic messages that are so obvious that our loved ones will roll their eyes and add it to the "So-and-so wants to convert me" section in their bookcase. Instead, we picked books that communicate the grace and mystery of our faith in a way that is subtle, surprising, attractive and respectful.
In no particular order:
1. The Power and the Glory by Graham Greene: The protagonist in this book is an alcoholic priest who has fathered a child in an illicit relationship. He is on the run from authorities during the persecution of Catholics that occurred in Mexico in the 1930s. The story juxtaposes an atheistic worldview, found in the character of the Lieutenant, with a supernatural worldview, found in the unlikely antihero, the "whisky priest." But what I love about this book is that Greene surprises us with his answers. The holy people in his book are weak, sinful and confused and those who have rejected God are strong, selfless and passionately work for what they see as the good of their people. The story is a beautiful exploration of the mystery of holiness which can, and often is, found in the most unlikely of places.
2. The Brothers Karamazov by Fyodor Dostoevsky: This book is for serious readers but if the fallen-away Catholics you know are, then I recommend it wholeheartedly. After you get past the confusing Russian names, it is a fascinating look into the deepest questions of human existence and the different philosophical answers to these questions. Perhaps one of the most well-known sections of the book is The Grand Inquisitor which is a compelling argument for atheism. This is precisely why I love Dostoevsky. He does not castrate the arguments of unbelievers. Instead, he juxtaposes faith and doubt in a way that is filled with mystery and respect for free will. If the choice were obvious after all, it would not require faith.
3. Brideshead Revisited by Evelyn Waugh: I recently heard a radio interview with a woman who wrote a book about her experience with cancer. She rather proudly insisted that the experience had done nothing to change her. Evelyn Waugh does not write about such people. He instead writes about people who face life and change, grow and mature. This book is about conversion, grace and faith and though it was called an apologia for Catholicism, it does not give easy answers or portray predictable piety, something I think would be appealing to those away from the Church.
4. The Moviegoer by Walker Percy: The main character, Binx, is a man who finds himself in a malaise. Making money, girls and entertainment are at the center of his priorities. This book explores what moves this man from a bystander in life to actually making decisions, taking risks and accepting suffering – all things that are required of someone who makes a move to come back to the Church.
5. Seven Storey Mountain by Thomas Merton: I think a lot of Thomas Merton's books are an accessible read for spiritually-minded but non-practicing Catholics. Seeds of Contemplation was one of the first books I read as I made my way back to the Church and Seven Storey Mountain is a beautiful exploration of the mystery of change and conversion in the life of an unlikely monk.
6. Something Other Than God by Jennifer Fulwiler: If you think your loved ones would be more open to a modern-day conversion tale then Jennifer Fulwiler's wildly popular recent memoir might fit the bill. This book describes Jennifer's upbringing as an atheist and her gradual movement toward belief. It is down-to-earth, smart, and humorous. And judging from its popularity outside of an exclusively Catholic audience, it might be something your loved ones would be open to reading.
7. Lord of the Flies by William Golding: This dark and violent book about a group of unsupervised boys stuck on an uninhabited island may not be the first book you would think to give loved ones. But one of my friends suggested it because it explores the reality of evil which is an important introduction to the most vital questions about human nature.
8. The End of the Affair by Graham Greene: Can you tell I'm a Graham Greene fan? Only Graham Greene can write a book about a love triangle and extramarital affairs while at the same time managing to also write about the true meaning of love and the mysterious responsibilities of faith. Graham is a master of juxtaposition as the New York Times review of the book in 1951 confirms: "It is savage and sad, vulgar and ideal, coarse and refined, and a rather accurate image of an era of cunning and glory, of cowardice and heroism, of belief and unbelief."
9. Diary of a Country Priest by George Bernanos: Written as a diary of a French priest living in the countryside, this book is another one with an unlikely protagonist. The priest is not well-spoken or attractive. He is ill and has serious stomach problems that rob him of youthful vigor. He faces daily struggles and humiliations and the people of the town have little respect for him. However, in the dark obscurity of his faith and the endless difficulties, the priest continues to persevere. This book is good for loved ones who want to believe but struggle in perseverance.
10. Any Short Story by Flannery O'Connor: There are a lot of compilations of Flannery O'Connor's short stories available now so I won't recommend a particular one. But she is a master of wit, vivid characterizations, and she communicates complexity simply and faith with grit. She often sets spirituality against the secular world in her stories but does so with ambiguity and subtly, without glamorizing the side she favors. If you are a lover of surprise endings, I recommend reading one of her most famous short stories, "A Good Man is Hard to Find." The short story "Good Country People" is another good one.
Phew. That's all I've got for now.
If you have any additions, or suggestions, please add them in the comments!
Remember to pray and ask for the inspiration of the Holy Spirit before giving gifts to fallen-away loved ones this Christmas. I am praying, along with all the Daughters of St. Paul, for your fallen-away loved ones.
And stay tuned. I will be posting the Top Ten Movies for Fallen-Away Catholics shortly!