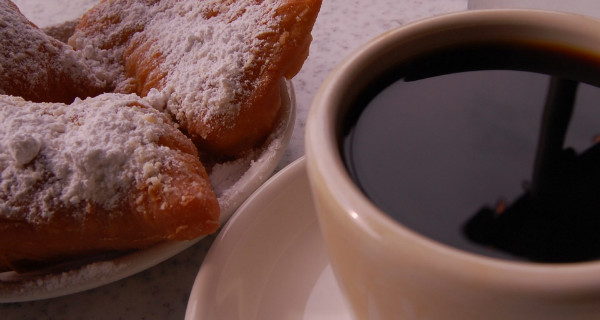 by Anne Joan Flanagan, FSP
Like most New Orleans Catholics, I grew up at least slightly aware of "Father Seelos," a kind Redemptorist who had spent just over a year in the city–almost a hundred years before I was born.
Those months happened to coincide with a yellow fever epidemic which claimed the 48-year-old priest's life.
In his all-too-brief ministry, the saintly Bavarian made a huge impression, and the city claimed him as one of its own, despite the much better claims of Baltimore (where he was ordained) and Pittsburgh (where he followed St John Neumann as pastor of St. Philomena's parish).
Holy cards of "Servant of God Francis X. Seelos" were as common as images of Our Lady of Prompt Succor. When my Dad's cousin Thomas was diagnosed with terminal colon cancer, we didn't just visit him: we pinned a relic of Father Seelos on his hospital gown. (Tommy lived another ten years, caring for his wife through her ordeal with Alzheimer's, and, mission accomplished, followed her in death three weeks later.) When Mom was dying, I held a first class relic of Father (now Blessed) Seelos in her hand, counting on him and Our Lady to escort her to God's presence.
So why is it that until this summer I had never visited the Assumption Church where Father Seelos was parish priest, and where he was buried? Maybe because it was in an unfamiliar, out-of-the-way part of the city. All I can really say is that the opportunity never really came up, and I never actually pursued it. Until Sister Julia Mary (on her "good bye tour" of the city) posted pictures from the Seelos Shrine on Facebook and I saw what I had been missing. The GPS app on my phone showed that Assumption Church was not all that far from the Quarter, and we really could find our way there without too much trouble. I convinced my sisters to make a visit part of our "French Quarter Day" on a sweltering Saturday.
For some reason, I wasn't all that keen on beginning at the clearly marked Visitor's Center. (I preferred to be more discreet!) But that is the only way in: the Church doors facing the street are bolted shut. (I tried them. Both.) Happily, when we rang the bell, it was my sister Jane's best friend who was on volunteer duty that day. She was thrilled to see us (and even admitted praying that we would be able to connect that weekend, somehow). She showed us the well-prepared one-minute "tour" presenting the Blessed's life and artifacts (none of us felt called to imitate the "Cheerful Ascetic" in his penitential practices, though seeing his "cilicium" really made me question my own expectations of comfort and pain-free living).
There was even a wax museum-style depiction of his last pastoral act: visiting and anointing a man who was dying of yellow fever. (After leaving the man's bedside, Father Seelos returned to the parish and collapsed, stricken with his own final illness.) The gift shop was well-stocked and comfortable (so much for penances!): I even got a small statue for my office shrine, and bonus holy cards for anyone who hasn't yet heard of the good Father.
Finally, a group of us were escorted to the Shrine itself, its entry facing a lawn where once Father Seelos' rectory had stood. (The approximate spot of his room was marked.) There is a long foyer with a winning statue of Father Seelos, and several paintings of his life and ministry (including the time he spent with St John Neumann, his novice director), as well as the narrow old casket in which he was first buried. In a chapel, a large and ornate reliquary, modeled on Bavarian architecture, holds the Blessed's mortal remains. Overlooking it is a Bavarian statue of Our Lady which first arrived at the parish during Father Seelos' tenure, and which he himself had blessed.
A shrine volunteer held a Crucifix (it is connected to the miracle which led to Seelos' beatification in 2000) and invited each us us in turn to bless ourselves with the Crucifix and to entrust our intentions to Seelos' intercession. She then led us in a spontaneous prayer. ("I have a learning disability," she explained, "and I just haven't been able to memorize the official prayer.") We also had time to visit the fabulous Church with its hand-carved high altar and the soaring pulpit (hand-carved) from which Father Seelos preached.
It was too hot (the heat index was well over 100º) to spend much time outside, but the area between the Visitor Center and the Church seemed ideal for a day of retreat; the life-sized statue of Jesus in Gethsemane really inspired the desire to "stay with Me."
So, if you find yourself in need of some spiritual refreshment while in New Orleans, the Seelos shrine is definitely one landmark you won't want to miss!

Sister Anne Flanagan, a Daughter of St Paul, a native of New Orleans, is author of Five Keys to Understanding Pope Francis. She has also recorded over two dozen albums as a soprano in the Daughters of St Paul choir. Follow her on Twitter @nunblogger. She blogs at Nun Blog.