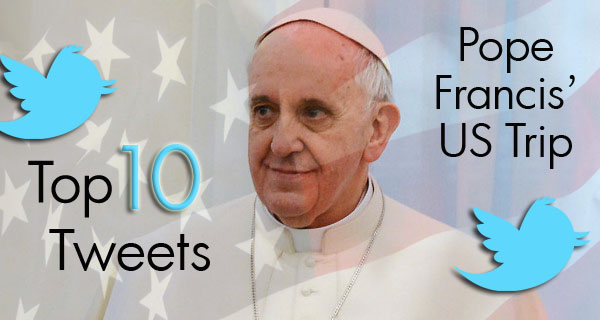 Twitter saved my life during the pope's recent visit.
I was pretty bummed that I was not able to go see Pope Francis. Several of my sisters were able to go, but alas our work must go on so some sisters had to stay home and hold down the fort.
But being on Twitter helped me feel like I was almost there.
I lived vicariously through the amazing tweets, funny videos and overall enthusiasm that practically burned through the screen.
Here are some of my favorites:
1. I visited you in prison:
My absolute favorite pic from #PopeinUS – taken when he visited inmates in a Philly prison. (Matt 25:39-40) pic.twitter.com/5C50NEF0tW

— Mark Hart (@LT_TheBiblegeek) September 28, 2015
2. Time flies when you're having fun!
This is by far my favorite Vine from #PopeInDC. https://t.co/atdfAb6a6H

— Matt Swaim (@mattswaim) September 24, 2015
3. Happy nuns:
This is probably how @srseanm and the other #MediaNuns going to Evening Prayer with #PopeInNYC are like on the INSIDE pic.twitter.com/dZ4Umt2LfU

— Daughters of St Paul (@DaughterStPaul) September 24, 2015
4. The look of pure joy:
What a look of pure JOY on @Pontifex as Theresa, a @SpecialOlympics cheerleader, rushes to greet him! #PopeInDC pic.twitter.com/NpOHykjycZ

— Special Olympics (@SpecialOlympics) September 24, 2015
5. Happiest person in the world?
https://twitter.com/AndrzejSkon/status/647216078213513216/
6. Tailgating nuns:
Ain't no tailgate like a Papal Mass tailgate, 'cause a Papal Mass tailgate don't stop…#PopeinUS pic.twitter.com/CuvzMGXSCp

— Tommy Tighe (@theghissilent) September 23, 2015
7. Pope Francis, the Rock of the Church, as Rocky:
https://twitter.com/PopeIsHope/status/648327526885015553/
8. Pup Francis:
Everyone is getting decked out for #PopeinNYC: we even have Pup Francis. (pic: @petchat) pic.twitter.com/x1nlaM6nqz

— Fr Matthew Schneider (@FrMatthewLC) September 25, 2015
9. Baby pope!
How do you make #PopeFrancis laugh? Dress your baby up like a mini pontiff: http://t.co/7r2OmuoM7t #PopeInPhilly https://t.co/yBCRWQbaJR

— ABC7 News (@abc7newsBayArea) September 27, 2015
10. Going back to normal life:
Going through pope withdrawal. I think I need a support group for this 🙁 #PopeInPhilly #PopeinUS #PopeFrancis

— Sr. Theresa Aletheia (@pursuedbytruth) September 28, 2015
Do any of you have favorite tweets, videos or pictures from Pope Francis' visit to the United States?
Add them in the comments!