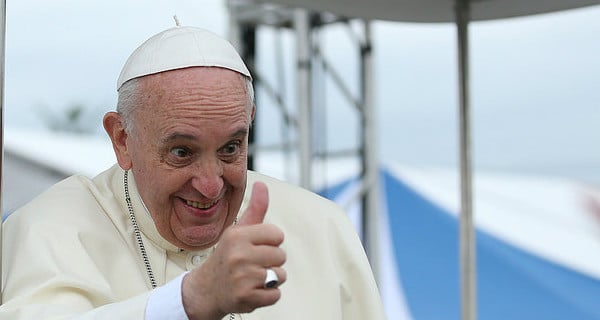 Pope Francis gave an absolutely beautiful speech at the World Meeting of Families on Saturday night.
He spoke without a script, from his heart and in his native language.
Pope Francis addressed one of his favorite topics: the family. And he spoke to one of his favorite audiences: normal, hard-working salt of the earth people.
Before I started watching the speech, I was on Twitter and noticed some unrest in my Twitter feed about something related to Pope Francis' visit. I won't go into the controversy; it's not worth it.
But as I noticed some of my Twitter friends getting in a frenzy, I watched Pope Francis at the World Meeting of Families, observing each family give their testimony with intensity. He gripped a pen in his hand and made notes as he listened to each of these families pour their hearts out to him. It was a beautiful sight to see.
Then he stood up and full of the Holy Spirit, Pope Francis spoke to families about the family. As I listened to this man, with the heart of a shepherd, the Shepherd, I prayed for all the people who find it difficult to set aside their preconceptions, reservations and prejudices about Pope Francis and in some cases, the Catholic faith, during this trip to the United States.
I prayed for all those people who hear Pope Francis filtered through the ears of secular media outlets, and even some Catholic media outlets, without first listening to his words for themselves.
Then I just soaked in this beautiful, inspired speech on the family.
If you listen to any speech from Pope Francis' trip to the United States, listen to this one: