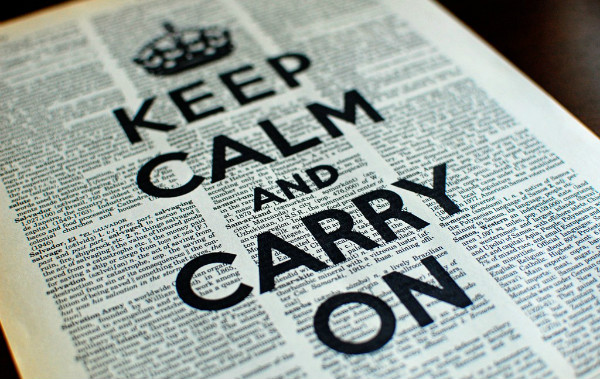 By Sr. Mary Peter Martin, FSP
You may have noticed the latest trend in Keep Calm T-Shirts and even Facebook posts: Keep Calm I'm a Nurse, Keep Calm and Carry On, Keep Calm and Let the Chef Handle It, Keep Calm It's My 40th Birthday Today….
Anyone can go on zazzle.com and create their own Keep Calm T-Shirt message. I'm visiting my family these few weeks and these Keep Calm messages have caught my attention.
In reality, however, there are lots of events, that can shatter our calm and leave us feeling anxious, on edge, even irritable or short tempered.
Some of us lose our calm when unexpected bills arrive or certain medical tests are not covered by insurance. Others when a child doesn't return home on time or when waiting for grades now that school has started. It takes more than a message of bravado on our T-Shirt to maintain our calm in the face of the media's continued reporting of crimes, threats from terrorists, and the plight of refugees.
In the gospels, Jesus counseled his followers to follow him: the Poor One, the Patient One, the Man who brings inner lasting peace. This past week I experienced the closeness of God as I held a child in my arms, as well as when I held the wheel of a wind-blown car. My sisters and I were on a road trip from South Carolina to northeastern Ohio. The three of us divided the driving for the twelve-hour trip between us. I took the wheel for the last four hours as we neared our destination, just after we had crossed from West Virginia into the rolling hills of southern Ohio.
About 50 miles into my turn gray clouds burst open, obscuring the road ahead in a merciless downpour. Leaves slapped against our windshield and horizontal wind-driven rain limited our visibility to zero. I needed all my strength to keep the car in its lane. Thunder rumbled and lightning darted too close for comfort, so I found a place to pull over and wait with emergency lights flashing for the storm to pass. I prayed to our Lord to send his angels to protect us.
Despite the intensity of the storm, calming thoughts filled my mind. I took comfort in remembering my two-month-old grand niece, whom I had met a couple days before we left for our road trip. I had the joy of cradling Baby Tessa in my arms. When her dad returned from work, I handed Tessa over to her father and watched her nestle trustingly in his arms.
"Who or what is more helpless than a baby?" I had thought to myself on watching them. "Yet God holds me even more tenderly than all of the moms, dads and doting aunts in all the world."
Keep calm and carry on with your daily life is a Bible-based principle. In the sixth chapter of St. Matthew's gospel, Jesus commands us: "Do not worry." Do not worry about what to eat, or about your body, or about your clothing. Even the sparrows are under God's watchful eye. Jesus reassures us that we are worth more than many sparrows!
In chapter 43 of the Book of the Prophet Isaiah, God is as tender as a young father holding his daughter in his arms. "You are precious in my eyes," he tell us, "and I love you."
No matter the storms that life brings, we can be calm and serene. Even if we feel as weak as a wet kitten all the more reason have we to trust and lie calmly in the arms of our Father. God will help you to pay the bills, find a cure for a child, and bring you inner peace. God will supply you with the strength you need to put up with adversity, to find a new job when you need it, to say no to selfishness and yes to generosity.
When the "Litany of woes, crimes and sadness" comes to us from news media or from other sources, remember what God's Word tells you and me: "Be strong, fear not!"
Read and pray the many psalms that tell us of God's strength and our weakness. Psalm 104 lists the myriad ways God provides for his creatures. Psalm 105 tells us to "Remember the wonderful works he has done, his miracles, and the judgments he has uttered."
May you draw strength from the grace of our provident God who loves us and cares for us. Even if we are in our 80s and 90s, we are our Father's beloved sons and daughters whom he cherishes and provides for.

Sr. Mary Peter Martin entered the Daughters of St. Paul fifty years ago. Before the US bishops set up an office for evangelization, Sr. Mary Peter served for ten years on the Board of Directors of the National Council for Catholic Evangelization. Sr. Mary Peter has a Master's in Religious Education from Boston College. When asked if she'd become a religious sister again she says, "I like to use the words of our founding Sister in the USA, Mother Paula Cordero: 'If I had a hundred lives, I'd give them all as a Daughter of St. Paul.'