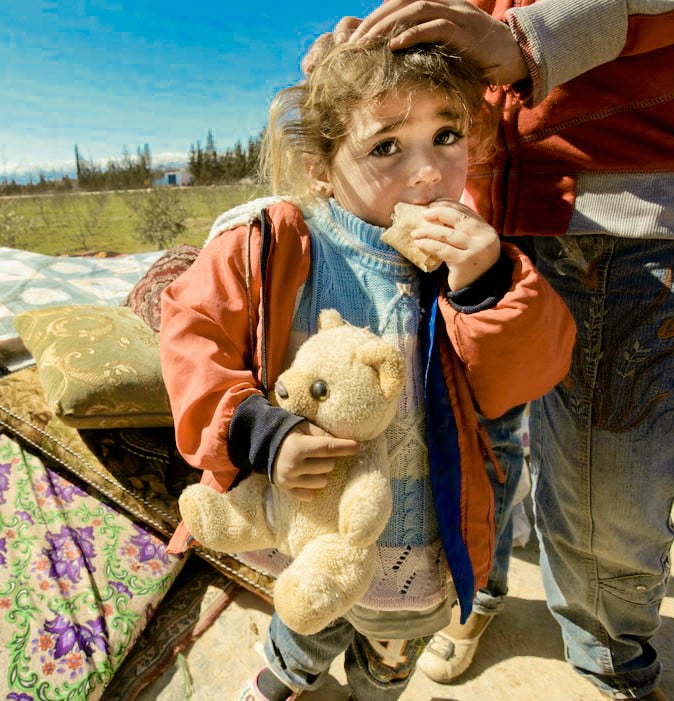 Since there is so much controversy over allowing Syrian refugees into the US, I decided to look up some quotes from Scripture, Saints, popes, and other Church figures for some guidance on the issue of refugees.
Of course, it will not give a black and white answer to the current dilemma that we face. But I think you will agree that the attitude of the Church on this, based in Scripture, points toward accepting refugees when it is needed and at all possible.
The Daughters of St. Paul, all over the world, are giving from our own pockets, (and our pockets are not deep), to help the refugees. It is beautiful to see how much we have raised so far in the United States just from the sisters giving from their meager monthly allowances. In countries where it is possible, our sisters are discerning ways we can welcome refugees.
This is the worst refugee crisis that the world has seen in a generation. Regardless of what happens in this political battle, Church teaching seems to clearly point to a need for real support for refugees. Hospitality when possible, but certainly alms and prayers. Real concrete support.
The USCCB is also urging Catholics to resist the urge to scapegoat these people who are in such dire need:
These refugees are fleeing terror themselves—violence like we have witnessed in Paris. They are extremely vulnerable families, women, and children who are fleeing for their lives.

Bishop Eusebio Elizondo Almaguer, chair of the USCCB Committee on Migration.
Here are the quotes:
1. When One Is Hungry, It Hurts:
Our heart goes out particularly to the refugees. We know of those, for instance, who have left their homes to seek refuge in camps where there is little to eat, and where disease and death are ever present. When one is hungry it hurts. When one is hungry and homeless, it hurts even more. For this reason, each year we are encouraged when we learn of the charity of the generous people of America. You may think that your own part in this great work is not important…The little things you do, when added all together, become a mighty force for good. Each little help you give will probably keep another child alive.

Pope Paul VI, For The Children Suffering Throughout the World, Wednesday, 7 March 1973
2. The Words of Christ Lead Us to An Examination of Conscience:
Considering the extent and the seriousness of the problem, all the Church's members must be sensitive to this appeal, inasmuch as they are followers of Jesus – who himself experienced the condition of a refugee – and bearers of the Good News. Christ himself, in the moving Gospel passage read in the Latin Church on Monday of the First Week of Lent, wishes to be identified and recognized in every refugee: "I was a stranger and you welcomed me… I was a stranger and you did not welcome me" (Mt 25:35, 43). These words of Christ must lead us to a careful examination of conscience with regard to our attitude toward exiles and refugees.
3. Refugees Have a Right to Maintain Their Traditions:
At times these new environments can be inhospitable to the refugee or immigrant, or hostile to his or her background. The sons and daughters of a culture and a nation – of any culture or any nation – have a right to maintain their just traditions, to take pride in them and to have them respected by others…They are entitled to expect that this respect will be a first step to a complementarity of traditions that will enrich the citizens of the host country as a whole, as well as sustain and support the refugees and immigrants themselves.

Address of Saint John Paul II in "Rideau Hall" of Ottawa, Wednesday, 19 September 1984
4. Refugees Face a Divided and Inhospitable World:
The consequences of this state of affairs are to be seen in the festering of a wound which typifies and reveals the imbalances and conflicts of the modern world: the millions of refugees whom war, natural calamities, persecution and discrimination of every kind have deprived of home, employment, family and homeland. The tragedy of these multitudes is reflected in the hopeless faces of men, women and children who can no longer find a home in a divided and inhospitable world.

Saint John Paul II, Sollicitudo Socialis
5. Biblical Revelation Urges Us to Welcome the Stranger:
The presence of migrants and refugees seriously challenges the various societies which accept them…How can we ensure that integration will become mutual enrichment, open up positive perspectives to communities, and prevent the danger of discrimination, racism, extreme nationalism or xenophobia? Biblical revelation urges us to welcome the stranger; it tells us that in so doing, we open our doors to God, and that in the faces of others we see the face of Christ himself.

Pope Francis, Message for the World Day of Migrants and Refugees, January 17, 2016 (released in anticipation of the day)
6. Jesus Was a Refugee:
Let us think of how Jesus was a refugee, he had to flee for his life to be saved, with St Joseph and Our Lady, he had to go away to Egypt. He was a refugee. Let us pray to Our Lady, for the pain of refugees, that she be close to these of our brothers and sisters. Let us pray together to Our Lady for our refugee brothers and sisters. Mary, mother of refugees, pray for us.

Pope Francis, General Audience, St. Peter's Square, Wednesday, 18 June 2014
7. Think of the Starving Children:
Think of the starving children in refugee camps, think only of this! This is the result of war!

Pope Francis Morning Meditation, Tuesday, 25 February 2014
8. We Are Called to Overcome Misunderstanding and Fear:
As Catholics we are called to take concrete measures to overcome the misunderstanding, ignorance, competition, and fear that stand in the way of genuinely welcoming the stranger in our midst and enjoying the communion that is our destiny as Children of God.

Welcoming the Stranger Among Us: Unity in Diversity, A Statement of the U.S. Catholic Bishops
9. Our Stored Goods Belong to Others:
The bread you store up belongs to the hungry; the cloak that lies in your chest belongs to the naked; the gold you have hidden in the ground belongs to the poor. – St. Basil the Great
10. Every Family Should Welcome the Stranger:
Every family should have a room where Christ is welcome in the person of the hungry and thirsty stranger. – St. John Chrystostom
And a bonus from one of my favorite women:
11. The Few Who Make up for the Neglect of the Crowd:
In Christ's human life, there were always a few who made up for the neglect of the crowd. The shepherds did it; their hurrying to the crib atoned for the people who would flee from Christ. The wise men did it; their journey across the world made up for those who refused to stir one hand's breadth from the routine of their lives to go to Christ. The women at the foot of the Cross did it to, making up for the crowd who stood by and sneered. We can do it too, exactly as they did. We are not born too late. We do it by seeing Christ and serving Christ in friends and strangers, in everyone we come in contact with.

Dorothy Day, Room for Christ
Do you have any more quotes? Add them in the comments!