One of the bittersweet aspects of being a Virgo is that every experience carries light and darkness for me. Even at the height of something joyous—perhaps a marriage or a birth, for instance—I'm keenly aware of death waiting in the wings. I don't walk around feeling morose all the time, and I do enjoy the heck out of my life on most days. It's just that every high has its equal and opposite low, and that is what I feel even more intensely than usual at this time of transition from summer to autumn.
Once again, I stand at this point of balance between the outward focus of summer and the inner reflection of autumn. I begin to shift from tangible, outward goals to those that I can reach only in mind, heart, and spirit.
I looked for something that would symbolize this feeling of over-ripened fruit rotting on the ground, flowers withering, and the goodbye contained in every hello. In the past, I have made corn dolls at this time of year, but that just didn't resonate this time around. When I saw the shrunken form of an apple head doll, however, I knew I had found the perfect representation of the Autumn Equinox (at least for this Virgo).
These dolls are still made and sold in various parts of Appalachia to this day, which brings in some ancestral energy to this craft for me as well. Once carved, they take about three weeks to dry. I think watching the emergence of the crone's face from the apple is going to feel quite magickal, and the doll will be a great addition to my Samhain altar.
There are many tutorials out there, but they all outline the same general steps. I used this one from Mother Earth News with some modifications:
I soaked my carved apple heads in lemon juice for a few hours instead of just one minute. Some websites advise soaking them overnight.
Since I live in the extremely humid Deep South, I put mine in the oven at 170° for about four hours. This kickstarted the drying process, and I'm hoping it will prevent mold!
This is how they look after the initial oven drying and a day of air-drying: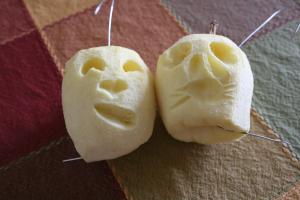 If the dolls turn out well, I'll post pics before Samhain. Meanwhile, have fun creating your own apple head dolls in this season of transition.
Blessed Be