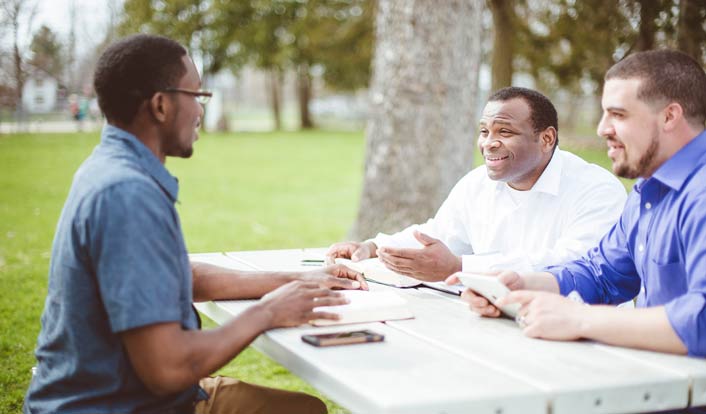 It's not surprising that Scripture calls upon us to imitate and follow the examples of Christ (1 Peter 2:21) and God the Father (Ephesians 5:1). It's more surprising that we are told to follow the examples of the godly people around us, and to strive, by Christ's help, to be such examples ourselves.
Here's what Scripture has to say:
"Be imitators of me, just as I also am of Christ" (1 Corinthians 11:1, NASB).

"And you became imitators of us and of the Lord, when you received the message with joy that comes from the Holy Spirit, despite great affliction"
(1 Thessalonians 1:6, NET).

"Remember your leaders, who spoke God's message to you; reflect on the outcome of their lives and imitate their faith" (Hebrews 13:7, NET).

"Be imitators of me, brothers and sisters, and watch carefully those who are living this way, just as you have us as an example" (Philippians 3:17, NET).

"Set an example for the believers in speech, in conduct, in love, in faith and in purity. …Do not neglect your gift… Be diligent in these matters; give yourself wholly to them, so that everyone may see your progress. Watch your life and doctrine closely. Persevere in them, because if you do, you will save [rescue, deliver from bondage] both yourself and your hearers" (1 Timothy 4:12, 14-16, NIV).

"Be shepherds of God's flock that is under your care…not pursuing dishonest gain, but eager to serve; not lording it over those entrusted to you, but being examples to the flock" (1 Peter 5:2-3, NIV).

"A disciple is not greater than his teacher, but everyone when fully trained will be like his teacher" (Luke 6:40, NET).
This is why it's vital that we become part of a Bible-believing local church. God has His faithful people everywhere, and by becoming actively involved in the local body of Christ we can get to know such people and learn from their examples in different areas—and hopefully, be examples ourselves. (Another way we can be inspired is by reading and discussing biographies of faithful believers, as well as the Christ-centered books others have written.)
Notice how the call to good teaching and good living is integrated in Titus 2, among the young and the older, both men and women:
"But as for you, teach what accords with sound doctrine. Older men are to be sober-minded, dignified, self-controlled, sound in faith, in love, and in steadfastness. Older women likewise are to be reverent in behavior, not slanderers or slaves to much wine. They are to teach what is good, and so train the young women to love their husbands and children, to be self-controlled, pure, working at home, kind, and submissive to their own husbands, that the word of God may not be reviled. Likewise, urge the younger men to be self-controlled. Show yourself in all respects to be a model of good works, and in your teaching show integrity, dignity, and sound speech that cannot be condemned, so that an opponent may be put to shame, having nothing evil to say about us" (Titus 2:1-8).
As you contemplate these passages, consider that we can only follow an example we're aware of, one that we can actually see or hear about. The body of Christ needs to let its light shine before men, and we need models of every spiritual discipline. (I've written extensively on the question of whether the example of our giving should always be kept secret.) We dare not let the risk of our pride keep us from faithfully disclosing God's work in our lives. And if we must be silent to avoid our own pride, we should support others who can humbly testify to Christ's faithfulness in various areas of their lives.
Puritan William Bates wrote, "Precepts instruct us what things are our duty, but examples assure us that they are possible… When we see men like ourselves, who are united to frail flesh and in the same condition with us, to command their passions, to overcome the most glorious and glittering temptations, we are encouraged in our spiritual warfare."
Photo: Christianpics.co