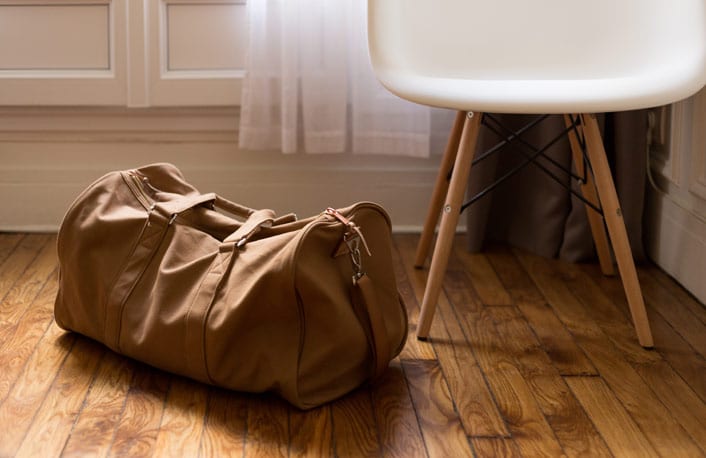 A reader asked me, "I often hear the saying 'I want to be ready to meet my Lord.' Can you explain what exactly you mean by this, please?"
First of all, and most importantly, being ready to meet the Lord means you've made sure of your relationship with Jesus Christ, and are trusting only Him to save you—not anyone or anything else, and certainly not any good works you've done. R. A. Torrey put it this way: "I am ready to meet God face to face tonight…for all my sins are covered by the atoning blood."
Romans 10:9 says, "If you confess with your mouth Jesus as Lord, and believe in your heart that God raised Him from the dead, you will be saved." And in John 5:24 Jesus tells us, "Whoever hears my word and believes Him who sent me has eternal life and will not be condemned; he has crossed over from death to life."
Once you've accepted Christ as your Lord and Savior, being ready to meet the Lord means living in a way that pleases Him so that whenever He calls you home—and knowing that could be any time—you can hear Him say, "Well done, good and faithful servant!"
Scripture teaches with unmistakable clarity that all believers in Christ will give an account of their lives to their Lord (Romans 14:10-12). Even if Christ does not return for two hundred years, we will meet Him in our deaths, whether in twenty years, twenty months, or twenty minutes. God encourages us not to be surprised about the soon coming of our appointment to stand before Him. If we are ready to meet Christ, we will long for His return. If we are not ready, we will dread it. If we do not feel ready to meet Him, now is the time to get ready.
Readers of my books are probably familiar with my emphasis on how five minutes after we die, we'll know exactly how we should have lived. But we can't do life here over again. There's no retaking the course once we've failed it. There's no improving a D to an A. No rescheduling the final exams. Death is the deadline. There's no extension.
The good news is we don't have to wait until we die to know how we should live! God has given us His Word to tell us how to live and His indwelling Spirit to empower us to live as we should. "His divine power has given us everything we need for a godly life through our knowledge of him who called us by his own glory and goodness" (2 Peter 1:3, NIV). Every day God gives us is an opportunity to live for Christ: "So whether we are at home or away, we make it our aim to please him" (2 Corinthians 5:9).
If we are His children, God is for us, not against us (Romans 8:31). He has assured us our names are written in the Book of Life, and we won't face the Great White Throne Judgment. He wants to commend and reward us at the judgment seat of Christ. He doesn't want the works of our lifetime to go up in smoke. He wants us to have eternal rewards—and He has given us ­every­ resource in Christ to live the godly life that will result in those eternal rewards. "Look, I am coming soon! My reward is with me, and I will give to each person according to what they have done" (Revelation 22:12).
Peter says, "If you do these things, [then] you will never fall, and you will receive a rich welcome into the eternal kingdom of our Lord and Savior Jesus Christ" (2 Peter1:10-11). What a powerful encouragement this is to saints who sacrifice in this life to prepare for the next! In Heaven a great welcoming committee awaits them and a hearty "Well done!" But this isn't automatic—the conditional "if, then" makes it clear that if we don't do what Peter prescribed, then we won't receive this rich welcome when we enter Heaven.
In my book The Purity Principle, I share how years ago I was approached by a woman who told me that a year earlier her husband had come to her in tears, confessing his attraction to a coworker. He was under constant temptation and felt himself slipping. He committed himself to back off from the relationship and asked his wife to understand and pray for him. She was hurt but realized she needed to help him rather than feel sorry for herself.
The result? Not only did he back off, but through his wife's support they drew closer together than ever. In tears she told me, "Two months ago my husband died without warning. If he hadn't been honest with me that night, he would have had an affair with that woman—and likely would have left me. He would have died unready to meet God, and I would have lived the rest of my life grieving over his affair. But that isn't what happened. His last words to me were, 'I love you,' and I know it was true—he'd proven it by his actions. I thank God every day that I think of him with complete respect and admiration for loving God and me enough to be honest about his struggles."
This man was ready to meet His Savior because he changed course and made different choices that honored both His Lord and his wife, while he still had the time to do so. "Let us throw off ­every­thing that hinders and the sin that so easily entangles, and let us run with perseverance the race marked out for us" (Hebrews 12:1). Sin entangles our feet, puts us out of the competition, and results in losing the race and the prize. So as God's child, what personal, spiritual, moral, and financial changes do you need to make to get ready to give Him a face-to-face account of your job performance, and to hear "well done"?
"Now may the God of peace who brought again from the dead our Lord Jesus, the great shepherd of the sheep, by the blood of the eternal covenant, equip you with everything good that you may do his will, working in us that which is pleasing in his sight, through Jesus Christ, to whom be glory forever and ever. Amen." (Hebrews 13:20-21)
See Randy's book The Law of Rewards for more on preparing well for eternity.
Photo by Erol Ahmed on Unsplash