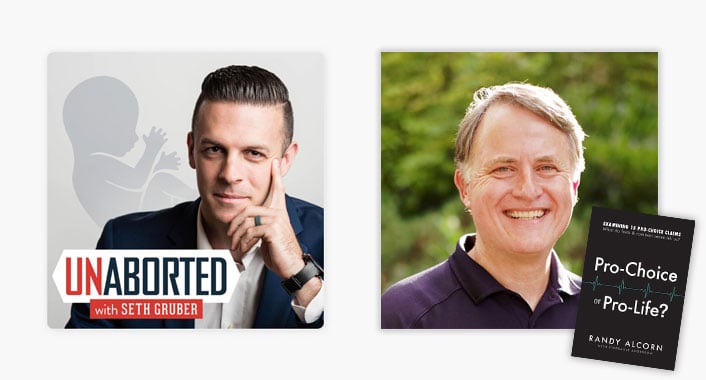 I was interviewed earlier last week on Seth Gruber's podcast UnAborted. Seth has a big heart for the unborn and is passionate about equipping Christians and pro-life advocates to make a gracious, winsome, and persuasive case of their prolife beliefs in the public square.
Watch or listen to our conversation, which includes some stories I haven't shared before in an interview, about my family's prolife history, Frank Peretti, and the Lovejoy abortion clinic in Portland, which recently closed after 50 years:
Our ministry received an encouraging note from someone who watched this podcast:
I woke up this morning at about 3:30 because I couldn't sleep. Thought I would wash some dishes and cook some eggs. So I would have something to listen to, I came across Randy's interview with Seth Gruber. I have followed Randy's ministry for many years. I have been aware of how EPM began and Randy's story for years but his interview with Seth had as much of an impact on me as anything he has said or written.

I am semi-retired so I have quite a bit of free time. When I worked, I travelled a good bit so I had a chance to listen to all of his fiction books and really benefitted from them. Although I've listened to Randy before, for some reason this interview affected me emotionally, particularly that his daughters were "all in" from an early age. They weren't involved just because Dad led a ministry, they were involved with full faith in God's provision and the impact they would have on the abortion industry. At that time, there likely were more negatives than positives and yet they saw what was not apparent at first look. That God was in the details and no matter what Satan threw at them. God would sustain them.

I just wanted to drop this quick note to you to thank you for your years of ministry and the love that is apparent with every word spoken. I am praying for your ministry as it continues to have a profound effect on people everywhere. I will also pray about my own involvement. Despite following the prolife movement and having several friends that are very involved, I have never been personally involved in any way. I don't know what that will look like. I'm 62 years old now and have a lot more time on my hands than I did when I was working 60 hours a week. Again thank you and God bless you and your tremendous work.
How might God be calling you to intervene on behalf of unborn children and their mothers? Here are 50 ideas to get you started. I also encourage you to check out my book ProChoice or ProLife: Examining 15 Pro-Choice Claims—What Do Facts & Common Sense Tell Us? It's available as a free PDF.