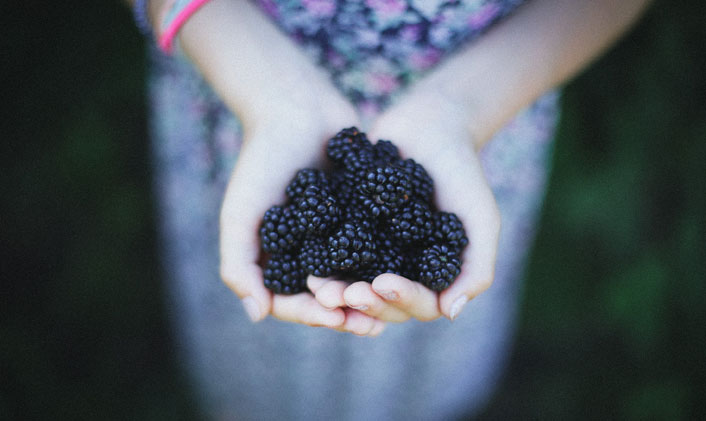 Sometimes we take for granted God's many wonders, such as the beauty of a hummingbird, the glories of a rose, or the taste of grapes picked off the vine. For me, late-summer bike rides in Gresham, Oregon, are highlighted by the scent of ripe blackberries and the warm sun on my face. Are these small things? Sure. But how encouraging that God has intended "all things" for our good: "Command those who are rich . . . not to set their hope on riches . . . but on God who richly provides" (1 Timothy 6:17 NET, emphasis added).
God's generosity abounds. His gifts surround us—everywhere we look, and everywhere we don't.
In the middle of instructing those who are rich, Paul took a moment to comment on the character of God. He described God not as demanding or restrictive or begrudging, but as a God full of joy who provides all things with our delight in mind.
Galatians 5:22-23 indicates that a fruit of the Spirit is "goodness." The word Paul used in 1 Timothy 6:18 that's translated "to do good" is the verb form of this same word. In other words, God wants us to bear the fruit of his Spirit. Doing good goes far beyond simply doing no harm—it means actively reaching out to people through both small and large acts of generosity.
Many Greek scholars believe that "goodness," as listed in Galatians 5:22, specifically involves generosity: Greek scholars Robert Mounce and J. B. Phillips, as well as the New American Bible and the New Revised Standard Version, all translate this word in Galatians 5:22 as "generosity" rather than "goodness." Renowned scholar F. F. Bruce is inclined to agree.
Martin Luther was a Greek scholar who translated the New Testament into German in 1522. In his commentary on Galatians, he describes the word translated "goodness" in English in Galatians 5:22. He says it refers to "when a man willingly helpeth others in their necessity by giving, lending, and such other means."
Louw and Nida's dictionary, widely used by Bible translators, defines this word often translated "goodness" as "to be generous, generosity . . . the act of generous giving."
These definitions fit perfectly with the idea that the Holy Spirit's first indwelling of God's people resulted in widespread acts of radical generosity: "God's grace was so powerfully at work in them all that there were no needy persons among them. For from time to time those who owned land or houses sold them, brought the money from the sales and put it at the apostles' feet, and it was distributed to anyone who had need" (Acts 4:33-35, NIV).
A life characterized by greed and stinginess is neither Spirit-filled nor Christlike. If we know Jesus and the Holy Spirit is at work in our lives, we'll see the fruit of generosity. We will become more and more like our generous God.
One of the great privileges of my life has been my involvement with the ministry of Generous Giving, a group I highly recommend. This beautiful and powerful 7-minute spoken word from David Bowden at their latest conference really touched me. As David says, "God built generosity into the grain of the universe. …Giving is how we were made. God has sown generosity into our DNA."
See more resources on money and giving, as well as Randy's related books, including Giving Is the Good Life and The Treasure Principle.
Photo by nine koepfer on Unsplash