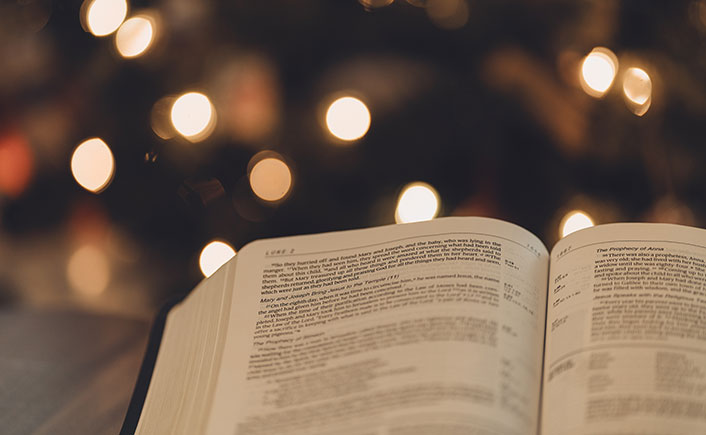 The angels must have been stunned to see the second member of the triune God become a human being! The baby of Bethlehem was Creator of the universe, pitching His tent on the humble camping ground of our little planet. God's glory now dwelt in Christ. He was the Holy of holies. People had only to look at Jesus to see God.
When we look at the life of Jesus, we see something unparalleled in all human history. As a carpenter's son, and especially as the eldest son, He was an integral part of the family business. He worked hard, long hours. As did other Jewish children of His place and time, He studied and knew much of the Old Testament Scriptures by heart. He was like the other children with one major difference—He never sinned. That would have made Him popular with some people, and very unpopular with others.
But let's go back further. As God the Father directly oversees every child's conception and formation, so He did with Jesus, again with a startling difference. In this case, the child conceived was the Son who had always, from eternity past, lived with His Father and the Holy Spirit. This same Jesus who stepped out of eternity and into time is the source of our eternal happiness. The Jesus who dwells within every believer, who came down from Heaven and returned there, will one day actually bring Heaven down to the New Earth—forever (Revelation 21:1-4, NIV).
Following are some verses and quotes about the incarnation and virgin birth, excerpted from my book It's All About Jesus. Enjoy!
Here is the great mystery of our religion: Christ came as a human. The Spirit proved that he pleased God, and he was seen by angels. Christ was preached to the nations. People in this world put their faith in him, and he was taken up to glory. 1 Timothy 3:16 CEV

In the sixth month of Elizabeth's pregnancy, God sent the angel Gabriel to Nazareth, a town in Galilee, to a virgin pledged to be married to a man named Joseph, a descendant of David. The virgin's name was Mary. …The angel went to her and said, "Do not be afraid, Mary; you have found favor with God. You will conceive and give birth to a son, and you are to call him Jesus. He will be great and will be called the Son of the Most High…his kingdom will never end."

"How will this be," Mary asked the angel, "since I am a virgin?"

The angel answered, "The Holy Spirit will come on you, and the power of the Most High will overshadow you. So the holy one to be born will be called the Son of God. Even Elizabeth your relative is going to have a child in her old age, and she who was said to be unable to conceive is in her sixth month. For no word from God will ever fail."

"I am the Lord's servant," Mary answered. "May your word to me be fulfilled." Then the angel left her. Luke 1:26-38 NIV

The Incarnation is the most stupendous event which ever can take place on earth, and after it henceforth, I do not see how we can scruple at any miracle on the mere ground of it being unlikely to happen. –John Henry Newman

Christ took our flesh upon him that he might take our sins upon him. –Thomas Watson

The greatness of God was not cast off, but the slightness of human nature was put on. –Thomas Aquinas

It is fitting that a supernatural person should enter and leave the earth in a supernatural way…His birth was natural, but His conception was supernatural. His death was natural, but His resurrection was supernatural. –John Stott

Jesus Christ did not remain at base headquarters in heaven, receiving reports of the world's suffering from below and shouting a few encouraging words to us from a safe distance. No, he left the headquarters and came down to us in the front-line trenches, right down to where we live… –Helmut Thielicke

It has never been quite enough to say that God is in his heaven and all is right with the world; since the rumor is that God had left his heavens to set it right. –G. K. Chesterton

Christians believe in the virgin birth of Jesus. Materialists believe in the virgin birth of the cosmos. Choose your miracle. –Glen Scrivener

If Jesus Christ were not virgin born, then…He inherited the nature of that father; as that father had a nature of sin, then Jesus Himself was a lost sinner and He Himself needed a Savior from sin. Deny the virgin birth of Jesus Christ and you paralyze the whole scheme of redemption by Jesus Christ. –I. M. Haldeman

Though He was God, He became a man. He was the Ancient of Days, yet He was born at a point in time. He created worlds and companied with celestial beings, yet He came to live in a family setting on earth. –Henry Gariepy

At Bethlehem God became man to enable men to become the sons of God. –C.S. Lewis

He was created by a mother whom he created. He cried in the manger in wordless infancy, he the Word, without whom all human eloquence is mute. –Augustine

No priest, no theologian stood at the cradle of Bethlehem. And yet, all Christian theology finds its beginnings in the miracle of miracles, that God became human. –Dietrich Bonhoeffer
Photo by Laura Nyhuis on Unsplash