Do You Care enough to Tifo?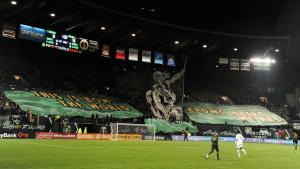 Days before the pitch is covered with teams, it's time for tifo.  I used to be one of those who didn't know the meaning of the Italian word, tifo, but thanks to my son teaching me about the game of soccer, and the lore of futbol, I learned.  Tifo is the creative expression of community, it isn't sponsored, it isn't paid for by someone else. When there's groups like the Timbers Army (and there are no groups like the Timbers Army), sports clubs can't just talk about "buy-in", or making their stadiums places of "community".  When you've got tifo-creating fans, you need to buy-in to the fans, not the fans onto the team. Letting the fans lead.
Just About Everything Through a Theological Lens
Most everything I view is through my faith. I used to see a divide between the sacred and the profane. The space I created between those polar opposite positions was the "secular." A space that isn't profane, so it isn't too bad, maybe. But it most assuredly isn't holy. So, nestled between cozily between the holy and the hellish was this little world "secular."
That space is gone. There is no separation of these little worlds on a spectrum from blessed to beastly.
All these spaces we fill are part of God's good earth. No dividing line. We're all in this together.
Everywhere You Place Your Foot
There is a passage in Deuteronomy that desperately needs Jesus. By itself, it sounds like a statement condoning crusades and conquerors, subjugation and destruction.  As Moses is reading the Book of the Law before the assembly of Israel, this promise arises:
Every place on which you set foot shall be yours; your territory shall extend from the wilderness to the Lebanon and from the River, the river Euphrates, to the Western Sea (Deuteronomy 11:24).
Rather than being a declaration to pillage decimate the residents of the land of Canaan, it could as easily become a mantra to live among and find a home among the others. Just because "every place you set your foot shall be yours," does not of necessity require that the other residents must be rid of. The promise of the new covenant becomes clear, it shall be for all people, and all ethnos . We can find a home among others. We are not the only one's here!
Distant Belonging, Belonging from a Distance
Miroslav Volf writes from the perspective of one who has seen too much separation and exclusion over religious, cultural, and ethnic differences in his native Croatia.  The dissolution of community and culture in Yugoslav Wars in the 1990s affected his understanding of being in the community while attempting as a faith community to maintain porous boundaries of grace and embrace. Often, Christians have struggled with the balance of "being in the world, and not of the world" (John 17:14-16).  These words of Jesus in John's gosple is about origin of our calling and identity, our missional discernment. It is not about separation. Volf describes it this way:
Departure is no longer a spacial category; it can take place within the cultural space one inhabits. And it involves neither a typically modern attempt to build a new heaven out of the worldly hell nor a typically postmodern restless movement that fears to arrive home. Never simply distance, a genuinely Christian departure is always also presence; never simply work and struggle, it is always already rest and joy (Exclusion and Embrace,, pg 49).
Separation off to distant places, separate communes or colonies, is not answer. Nor, wayward wandering never landing anywhere. Volf is saying, dig in, be a part of the people in the culture, yet remember where you come from, i.e. the realm and reign of God. Volf ads:
The proper distance from a culture does not take Christians out of that culture. Christians are not the insiders who have taken flight to a new "Christian culture" and become outsiders to their own culture; rather when they have responded to the call of the Gospel they have stepped, as it were, with one foot outside their own culture while with the other remaining firmly planted in it….Distance from a culture must never degenerate into flight from  that culture, but must be a way of living in a culture (Exclusion and Embrace, 49-50).
What is Happening in a Sports Stadium?
There are several cultural places to be in North America. Theaters, shopping areas, industrial hubs, centers of learning a research. And while I enjoy or participate in all those, I also spend a fair amount of time stadiums.  All sports, and the athletes,  have seem to have a conspicuous desire to be seen. Parents on the sidelines at Saturday morning flag-football games, soccer games, poolside at swim meets. Kids come away from the competition and want to know, "did you see me when I…" fill in the blank. Athletes want to be seen. And fans want to know that their
seeing
the athletes means something.
Writing for SBNation, Scott Hines uses his architectural awareness to imagine new ways to design sports stadiums. Lamenting the decline of sports venues as places that inspire and include a community. Hines critiques failed, or even false, attempts to create public spaces in sports venues, such as Tampa Bay's Ybora stadium, which the ball club said was "of, by and for the people of Tampa Bay",  but in reality looks a operated like any other stadium. Nothing new to see here. Leveling a similar critique against Atlanta's Sun Trust Park, Hines writes, "This is a business strategy, but it's not community engagement. It's community imitation, creating a context to fit one's own needs and walling off the city outside."
Along with dreaming of varieties of viewing options and adaptive field and outfield wall designs, Hines also seeks different ways for cities to view parts of the ballpark. Parks could become actual parks, places for the city to walk, gather, and eat. The point is that a ballpark owners should not have to talk the community into buying in.  Let the community shape the ballpark so as to make buy-in, persuasion, arm twisting, unnecessary.
We Need Ballparks, Games, and Teams
In Church and Civil Society, missiologist Tim Noble, notes"
The task of theologians, then, remai

ns what it has long been: to help articulate the faith of our

churches in a language that is rigorous and accessible, that speaks to "t

he joy and hope, the

sorrow and angui

sh"

of the people of our time, and of our place, whatever our nat

ion is. These

words will be prophetic, offering both consolation and judgement, to both civil

societies and

churches. They will call to service of God and God's creation, and mos

t especially to service of

God's chosen ones, the poor, the oppress

ed, the excluded. And this they will do always in faith,

i

n hope and in love
We need these places. This ideal, this ethic, can guide our public places. Marketplaces, community centers, stadiums, and public parks can be places which "speak to the joy and sorrow…of the people of our time."
Occurring in the late summer of 2001, baseball parks in the United States, as well as football stadiums for the NFL, colleges, and high schools, became places of public grieving
. Places for people of widely differing views to come to just be with each other. Conversely, we need places to celebrate shared joys, and commemorate shared accomplishments.
Tifo Time
The tifos seen at Providence Park, created by the Timber's Army, not only works of art. Not just provocative banners to intimidate competitors (thought they might). I know that the high school where I coach would love to make tifos.  But what other community expressions do we get to participate in? Where do we find gatherings of "red" and "blue" voters, vegans and carnivores, agitators and the agitated other than the ballpark or stadium. Though fleeting, narrow, and shallow, there is a level of community in the stadium. These are places to begin building trust and community.
Perhaps, as divided as we have become, these are the places where we can begin to learn what it takes to build and extend community. Places, in Volf's words, to practice both distance and belonging. Like Moses speaking to the Israelites gathered, where our feet land is a place we can belong, where we can bring the embrace of God's love, and share in the joy and rest and the celebrations of the people among us.