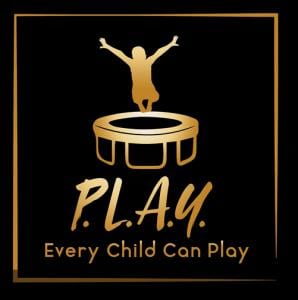 "Every child can play" is a statement. But it is also a challenge to see things from a different perspective.  A few years ago, a local Special Education public school teacher, began a non-profit to support kids of all abilities, and their families, to engage in the joy of athletic play and sports. It began in college when she was able to assist a young student diagnosed with Down's Syndrome learn how to write his name for the first time.  I recall parts of the phone call, "dad, I think I just had one of those big life moments, and I just wanted to tell you about it."
This experience came after a summer of interning in Sports Medicine for one the nation's top college football dynasties.  She went from working with those who were at the height of athletic ability to those for whom the most basic controlled movements are a challenge, for whom the most overlooked achievements were life-changing victories. Once and awhile I get to experience that as a high school coach.
The Team I Coach
High school students are often criticized for petty tribalism and shallow judgments. But there's a capacity for high school students to overcome those misguided stereotypes. Maybe I am biased since I get to work with high school athletes.  Maybe athletes' characteristics are not to be extrapolated to represent all adolescents. But I don't want to assume they're all that different, either.
Several years ago, Tammy (I have changed the student's name for privacy), a student athlete was the heart of the track team.  No one could ever assume an impure motive. She worked as hard as she could.   And she worked hard to make everyone else know she was cheering for them.  When she ran many on our team would rush to cheer for her. Her victories were victories for the team.
What We Are Witnessing?
In the Epistle to the Hebrews, Jesus, it is argued, is greater than the law, greater than the patriarchs, temple, and angels.  The writer of the epistle uses terms like "crowned…glory…honor" to describe the person of Jesus.
That's not the image of Jesus from the gospels.  Yes, Jesus had lots of followers and fans. Yet, from those in power he was ridiculed, criticized by Pharisees for partying with sinners, he was challenged to mind-games by lawyers and priests.  Many would not have considered Jesus esteemed or valued as he walked like a vagabond around Galilee and Jerusalem.
It is this unassuming Jesus' I encounter often.  Or, encounters me. Love and encouragement for us shows up rarely from those in power and authority, but from the "least of these", who unexpectedly touch our hearts and let us know we are loved, not because of what we could do, but for who we are.
There's part of Tammy's story that was beyond our relationship on the track team. Something before the years she was in high school and on the track team. I imagine there was a period of difficulty and challenge for her family – the day they discovered she was cognitively delayed, and would probably not be able to care for herself as an adult, that she may always need a helper.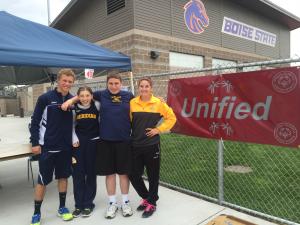 At every track meet not only would she run her races; she would cheer on those who were a part of our team.  Regardless of how the rest of the world might measure her, as delayed, disabled, different – all our team knew was that they were loved by her, and they loved her in return.  Tammy was like an unexpected "crown of glory" who inspired us to challenge all the definitions that limited and excluded others.
Glory Reoriented
I can't sentimentalize, though. Tammy, while loving and encouraging, still has a lot life ahead of her. There won't always be a track team to reciprocate the love and acceptance. Social services, community resources, and family time and energy will not always be evident or plentiful. Occasionally, schools are not always supportive places, and fellow athletes are not always safe. And the wider communities across the country may not always be kind.
But a reason to coach is to witness, to acknowledge, and remember the good that does take place. One of the self-serving reasons I coach is because I like it. And the unexpected rewards come again and again. We coaches often remind each other that we aren't really making better athletes, rather through athletics were trying to make better humans.  And then there are the revelatory moments when we realize that they are already pretty great people.
Defining "glory", we might look to a resurrected Jesus in all his "glory", and take our eyes off of the ways Jesus shows up among us.  The unassuming, the meek, and the too-often-outsider.  There is divine delight in the subtle wonder and simple joy of athletic movement, of being a team, and having someone like Tammy remind us that we are the ones still becoming fully human, thanks to her cheering us on.
---
Want Craig to come speak at your church, provide a workshop or a retreat? Send an invitation HERE
For more resources from Craig, check out The Missionplace.
And, although we're on hiatus, subscribe to
The All That's Holy: Blue Collar Podcast available on iTunes.
Follow me and support me on my Patreon page.
---