There's a certain family resemblance between Jesus and his Mamma. Mary follows God. She will go where God leads. And because of that, she sees things others did not see. Those who keep looking to the tradition, the familiar, and the recognized are not going to see the new things that God has in store. Jesus in the same prophetic path, likes to stir things up, too.
She Liked to Stir Things Up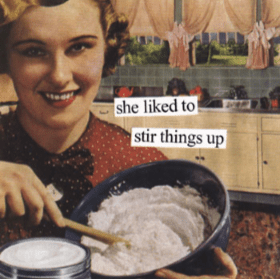 Mary's Magnificat cannot be read too lightly. Too quickly. It must resound and echo. Over and again those who are under the weight of an empire opposed to God's purposes for human flourishing needs to be addressed. And those who support it, they cannot hide in the shadows.
51 He has shown strength with his arm;
   he has scattered the proud in the thoughts of their hearts.
52 He has brought down the powerful from their thrones,
   and lifted up the lowly (Luke 1:51-51).
I can't point to anything Mary did to prove that she conspired with God to turn the world upside down. She didn't run toward Roman barracks or chase down the Temple priests and prophesy against them.
But she did raise some boys
Mary raised a family. She had four boys that joined in a pacifist insurrection to turn over the powers of politics and religion: James, Joses, Simon, and Judas-not-the"bad"-one (Matt 13.55). And those four brothers had as an older brother, Jesus. I think Mary raised her sons to stir things up.
One of the beautiful images to emerge on the internet in the past several years shows Mary in a different light. Mary, "meek and mild" is shown as a passive – even blank slate – over which God's spirit gains control. This Mary also seems to be held up as a model for women to be quiet, defining piety as a elusive and passive.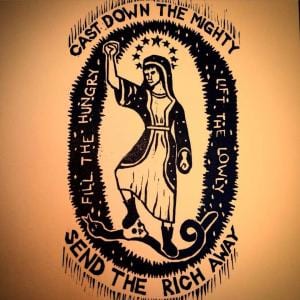 But there is the Mighty Mary. The anarchic Mary. Mary that intuited, from a deep history connecting her to the people of God. When the revolutionary God spoke, I don't think it was a message of passivity but one of partnership. Mary emerges as God's partner to raise a יֵשׁוּעַ, a jeshua, one "to deliver," "to save." Deliverance and saving imply something being saved from: from Rome, from religious nationalism, from religious exclusion, from apathy and resignation.
And now, you will conceive in your womb and bear a son, and you will name him Jesus (Luke 1:31).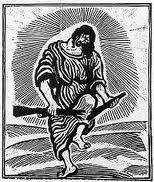 This Mary, the Mighty Mary, also shares family resemblance with an image of Jesus I first saw in a Sojouners magazine years ago. I don't know where it came from but is has become a hope for the day when swords are broken and war is taught no more (Isaiah 2.4).  Jesus, with a sharp snap on his knee breaks the rifle in two. A tool of power used to instill fear, to force order, and to dampen or eliminate freedom.
The Lady of Guadalupe
December 12th is the Festival of Our Lady of Guadalupe. Wendy Wright writes in a quiet and devotional voice. Telling the story of Juan Diego's encounter with the Virgin Mary. In the air were strains of music as she turned and spoke to him in his native language of Nahuatl, not the pervasive language of the Spanish oppressor. Mary told Juan Diego to go to the archbishop and tell him that the
"'Mother of the true God through whom one lives' wanted a temple built at the remote sites where she was standing so 'that she can show and give forth all my love, compassion, help, and defense to all the inhabitants of this land…to hear their lamentations and remedy their miseries, pain, and sufferings,'" (The Vigil, pg 56).
Wright continues to probe the meaning of Juan Diego's encounter with the Lady of Guadalupe. Wright recognizes the dual nature of the Lady of Guadalupe
"has been described theologically as a harbinger of the new creation proclaimed in the gospels: a mestiza embodying the cultural melding of the old and new worlds. Similarly, her story – her encounter with the peasant Juan Diego who entreats the bishop to build a sanctuary to honor her – has been read as a sign of the radical reversal proclaimed in the Magnificat" (Religion and the Visual).
Mary has another story, though. Wright points out that the same tradition that was a harbinger of Magnificat coming to fruit in a local and meaningful way, can be manipulated to disempower. Wright observes, "Nuestra Señora de Guadalupe has served contradictorily as an oppressive symbol, a model of female domesticity and virginity."
Mary is More than a Passive Vessel
I have not been a part of a religious tradition which has invested its imagination into learning from Mary. I am still learning about Mary. She's been presented at times as a one dimensional character. A prop simply there to move the narrative to other characters. It is no mistake that it is in Luke's gospel where aspect of Mary's nature as a prophet and as a co-conspirator with God's great reversal. Luke is committed to creating space for women in his gospel. When Mary revealed herself to Juan Diego in Guadalupe, she spoke in the indigenous language, ushered in by native music, pointed toward the Aztec locations for her new abode. She showed herself not over and against the Nahua peoples of Aztec heritage as the Conquistadors had. Rather Mary comes alongside, to empower, even to agitate, raising the peasant Juan Diego to lead the reversal.
Who are Mary and Jesus agitating today? They like to stir things up.