What did you do over the past ten years?
I fight annual celebrations. It always turns into self-criticism over the lack of accomplishment. Recognition of things not done since the previous time the holiday came by. Highlighting this feeling, over the past several days, as the calendar has turned from 2019 to 2020, a number of friends have been using social media to post lists of experiences and accomplishments. Most of these are bright and hopeful. Many recall challenges overcome. Some recall loss and pain.
What Did I Do Over the Past Decade? Not Enough!
As days go by, there's also recollection of things left undone. Decisions made which continue to dog me. Events, random experiences which chip away at our sense of who we are. We age, not only in body, but in spirit. As the elasticity of youth gives way to dry brittleness of age, we can begin to see the cracks, acknowledge to broken and missing parts.
Some have the blessed nature of quickly moving past these losses and broken pieces. Some of us who tend toward melancholy, toward depression. Practicing hope is hard, and I have not always quite gotten the knack of it. I've heard folks refer to Churchill's "black dog", and it doesn't play fetch, it just stays close by.
Watching It Go By
Over the past few years I have been practicing Buddhist meditation along with my daily prayer and bible reading. One of the learnings has been to remember that thoughts are not real. They are the perceptions of the things we encounter. That's a bit too Cartesian for my full endorsement. But there's also truth to it.
Like in the song, Pain, by The War on Drugs, "I've been pulling on a wire, but it just won't break/I've been turning up the dial, but I hear no sound/I resist what I cannot change/And I wanna find what can't be found". I have to do an inventory sometimes to recognize what I am trying to do, of what I am resisting. I need to consider what is motivating me to discover what I have been seeking. Intention. Motivation.
One of the skills, I've learned is to watch my thoughts from the "sidewalk". I don't always have to step into the road to fight the oncoming traffic. I watch these thoughts and feelings to go back and forth from the sidewalk. Acknowledge them. Not fight them. Become familiar with them. I do not, should not, jump into the traffic to fight the oncoming traffic, resisting, becoming exhausted and defeated by the oncoming rush.
Gathering Crumbs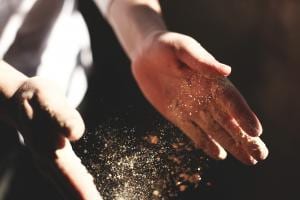 Recently I read a familiar verse in a profoundly different way. Referring to the verse "a plan for the fullness of time, to gather up all things in him, things in heaven and things on earth", Dean and Reiss's write in, God is in the Manger:
Nothing is lost; in Christ everything is lifted up, preserved – to be sure in a different form – transparent, clear, freed from the torment of self-seeking desire….The teaching of the gathering up of all things, found in Eph 1:10, is a wonderful and comforting idea. "God seeks out what has gone by" (Eccl 3:15) receives its fulfillment.
I don't know which fragments and broken bits exactly. I can imagine the incomplete and failed projects, the sins and mistakes, the confused priorities and the longing to get a do-over – all these things leaving a trail of broken bits, crumbs, and fragments.
Nothing beautiful, cherished, loved, is lost. Can I trust that Jesus is picking up the pieces of my brokenness? Can I trust that he will hold them as long as they need to be held?
Among the traffic of thoughts and feelings going back and forth are the disappointments of the past. And I can see Jesus holding the fragments, in his care, reconciling them to me, reconciling me to myself, to others, and to God.
Nothing is lost.