Okay…so I had this whole clever plan to make a video of how stupid easy it it to make homemade mayonnaise. It really wasn't for you, it was for a friend of mine who doesn't believe me that it only take about 45 seconds to whip it up and I thought to myself "Self, you need a blog post for today anyway…so maybe the internets don't know how to make mayonnaise either."
Then I was all… "SCORE!"
Then I did what any normal mom would do, and forced my 13 year old to record me making mayonnaise. He was thrilled. Really. See?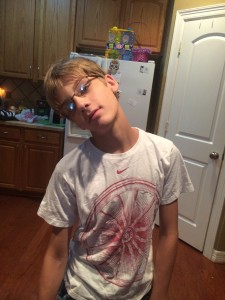 I was almost done with it when I made a "That's what she said" joke because it was funny, and I really do have the sense of humor of a 13-year-old boy…not my 13-year-old boy obviously, because he looked shocked and said "Mom! You can't say that on your blog!!! You're going to offend people."
But I totally stood up for you and said that my blog readers have a sense of humor and know how to take a joke,
He didn't believe me that the Catholic blogosphere is funny and reminded me of the time I wrote how God has a sense of humor and got emails from people telling me that I was going to Hell because God isn't really funny and the best response I could come up with was "Ummm…yeah…he is…."
Then he deleted the whole video and told me that I wasn't as funny as I thought I was, even though his 14 year-old brother was snorting with laughter…so maybe I'm more mature than I thought I was? Coolness.
Anyway, here I was with a blender full of mayonnaise, no video, and no more olive oil…which means this whole blog post took a left turn at Albuquerque.
So here's the deal, I made a mayonnaise video to show my friend how,  and to share it with you because it's easy and so much healthier, and we'll need again on another Wednesday recipe thing I'm sure. Plus it tastes so much better than anything that comes in a jar, so you might want to try it. Also, I forgot to take a picture of the mayo itself, but here's the egg salad I made with it. (This is why I'll never be a food blogger.)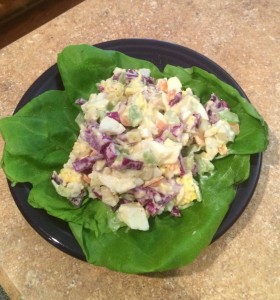 I know you thought I'd never get here, but here's how to whip up a little mayo!!!
Homemade Mayonnaise
Ingredients
1 Large Egg (This is one place in life where size really does matter)
1 cup extra light olive oil (or other oil you prefer like avocado, almond, etc)
2-3 tsp lemon juice (about half a lemon. You can use vinegar if you're in a pinch. If you don't like the tartness, you can use a tsp of water instead)
a pinch of salt
Directions
1. Put all the ingredients into a blender or food processor and give it a couple of seconds for the egg to sink to the bottom.
2. Turn it on high.
3. Wait about 30-45 seconds.
4. Once it's white and fluffy, turn it off because it's done.
5. Yes, I'm serious. That's it!
Once you've mastered making this ridiculously easy recipe, you can play with the flavor by adding a dollop of mustard, or garlic, or fresh herbs, or chili peppers, or anything you want to try.
You're welcome!
Thank you to Heather at Real Catholic Mom for talking me through using gifs. Go check out her blog. She's pretty awesome.