After an exciting day and an emergency c-section, Lucy is here at last!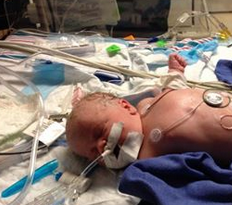 Weighing in at a perfect 8lbs and 6oz and measuring 20 and a quarter inches, she was born pink and crying. Thanks be to God! After an express trip to the NICU, she was placed on a vent to help her breathe until she has surgery to repair the hole in her diaphragm and put everything back where it belongs.
She was baptized this morning, with her older brother and sister as her godparents, and was confirmed with the name Katherine.
The last I heard, she's still waiting to get to meet her mom face-to-face, but has already hung out with her dad quite a bit.
While today was a high hurdle to jump, there's still a lot for this little girl to go through on the road to going home. Please continue to keep their family in your prayers.
St Lucy… Pray for us
St Katherine… Pray for us
St Bernardine of Siena… Pray for us
St Colette… Pray for us
All holy men and women… Pray for us