I was recently sent a copy of the new book Dear Pope Francis to review. Since it's a children's book, and I haven't been a child for a few years, I'm turning my blog over to my  6-year-old son for his opinion on the Pope's new book: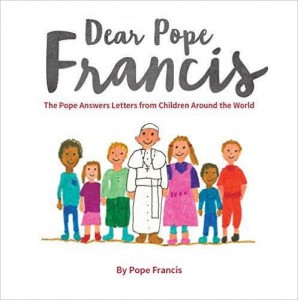 I think this book is really good. It has pictures of kids and letters. The kids use the letters to ask Pope Francis stuff. He answers their questions. I think it was funny that he said the devil was  a loser. I like that he said that it feels good being a dad. This book is good for people who are Catholic. Big people and little people. I will read it again. You should buy this book.*
*This review was typed by my son, and then edited and rearranged by me for the sake of clarity. This opinion is his own, goodness knows he says what he thinks.
Mom review:
I was a little skeptical about the concept of this book when I first heard of it. I worried about the readability factor for young children, grown-ups can have a hard time breaking the big stuff down to a child's level of understanding. I didn't need to worry. This book is easy to read with your child, or for them to read alone. The questions range from the personal "Do you like dancing?" to much deeper questions about Heaven, the Devil, and what happens after we die. My children learned a lot from this book, and I learned new ways of explaining the Faith to them.
We highly recommend Dear Pope Francis to anyone looking for a First Communion gift, or just something to share with the kids you love.