It is a very strange thing to be releasing a book with 'hugs' in the title at a time when the whole world can't come within six feet of each other, much less figure out whether they'll opt for greeting with a bear hug, awkward side hug, or the classic handshake. Even the elbow bump greetings of a few weeks ago are ill-advised in this season where loving our neighbor means keeping our distance. A friendly wave will do just fine. An old-fashioned bow and curtsey from the other side of the road, if we want to be fancy about it.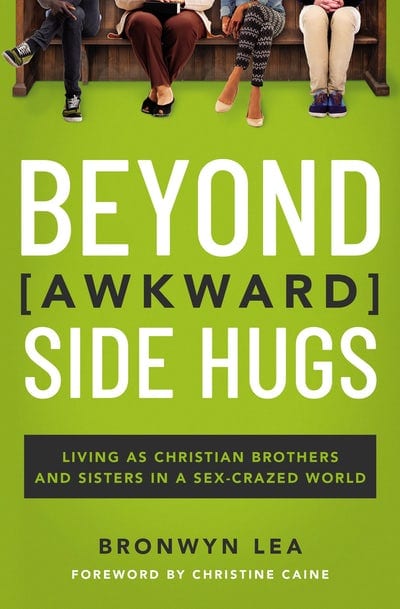 There are lots of reasons Christians should be setting the standard when it comes to social distancing. The first is that it's good citizenship. Our school, then our city, then our state, and now the nation have all issued protocols about the need to avoid one another for a while; and Christian obedience includes civil obedience.
The second reason for keeping our distance right now that it's good neighboring. Sometimes love calls us to draw closer to the hurt and help as the Good Samaritan did, but in this situation love calls us to sacrifice some personal freedoms and do our part in "flattening the curve", particularly as an act of neighboring to the health care workers, first responders, and essential service providers who are braving exposure on our part.
In a tongue-in-cheek way, though, I'd suggest there's a third reason Christians should be excellent at social distancing, and that's that we've had a lot of practice. Particularly when it comes to distancing ourselves from the opposite sex. Long before #coronavirus, we were "avoiding people like the plague" and "avoiding even the appearance of evil" when it came to men and women being together. In many Christian communities, we've been self-isolating in mens' groups and womens' groups for fear of sinful contamination for a long, long time.
My book, Beyond Awkward Side Hugs, is a challenge to the tendency Christian communities to constantly be exercising an "abundance of caution" when it comes to members of the opposite sex; and to treat one another more like family and less like fungi. If God is our Father and has adopted us as his children, then that makes our relationship vis a vis one another one of siblings, which is in fact the exact way the Bible addresses us hundreds of times: as brothers and sisters in Christ.
And it is precisely because God has made us family to one another that there is a fourth reason Christians can be particularly excellent at social distancing: unity in the Spirit. Any two bodies can be separate or distant from one another: the trick is to find ways to connect, even when we can't touch. In this particular way, the church has a distinct advantage. From the time Jesus came, it was no longer necessary to gather in one particular place to worship; rather, believers would now worship "in spirit and in truth" (John 4:24). Whether we're in the same building (or school, or office, or county or country) as one another or not, there is a "unity of the Spirit and a bond of peace" shared among those who belong to Jesus, and we are encouraged to "make every effort" to live into that unity (Ephesians 4:3).
For the longest time, we've expressed that unity on Sunday mornings, but we have a new opportunity and a fresh invitation to innovate and invigorate the way we embrace community. Perhaps it's in this time of social distancing that we'll rediscover just how close we've been all along.