There's a minor, understated scene in the new film Sully where a New York City policeman is helping one of the cold, shell-shocked airplane passengers disembark from a ferryboat. In a split second, the officer pulls the warm blanket further down the passenger's back and for that moment, this dramatized account gives way to an astonishing sense of reality—this event actually happened and that potentially tragic day showcased the best of humanity coming together.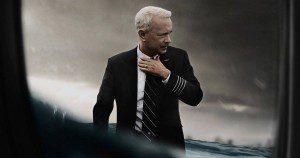 The film, starring Tom Hanks and Aaron Eckhart, and directed by Clint Eastwood, tackles the true story of Captain Chesley's Sullenberger's famous 2009 Hudson River Airbus landing. With an event still so fresh in the national consciousness, viewers might wonder what part of the story is left to tell. The filmmakers, however, carefully construct a narrative that exists beyond talk shows and breaking news headlines, through a screenplay by Todd Komarnicki based on Sullenberger's memoir Highest Duty: My Search for What Really Matters.
Certainly, the plane's stunning water landing is a pivotal moment in the story and viewers are treated to a thorough, heart-pounding depiction of it. But Sully also showcases many more suspenseful turns, some explosive (such as Sullenberger's visions of crashing airplanes into buildings) and some interpersonal (such as a committee hearings with the National Transportation Safety Board).
Hanks, in an inspiring performance that's already generating Oscar buzz, disappears into the quiet, humble shell of the title character. He wrestles with his choices, but not publicly. He secretly frets over the future, but is careful to carry that burden alone. When he announces to his wife on a phone call that he's okay, it sounds like every other husband's first words to their wives after a frightening near-miss. Sully is an everyman hero.
Like Hanks, Eastwood's low-key directorial style suits the story well and by bypassing additional drama or theatrical bells and whistles, the film becomes all the more authentic. With that realism serving as the bridge, viewers are then taken on an emotional journey, revealing a broader picture of a story they thought they knew and surprising them with outcomes already established. Above all, the film shines a bright spotlight on the heroism of ordinary people, including but limited to the now-famous pilot, rallying together in extraordinary circumstances.
The best films provoke a response and Sully beckons viewers to realize their own potential for greatness and compassion, even in the face of scrutiny or danger. After years of deconstructing heroes and the introduction of antiheroes in modern films, it's nice to root for the good guys and be reminded that giants of men and women still walk the earth.
Sully is rated PG-13 for some peril and brief strong language