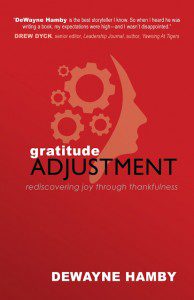 Gratitude Adjustment
Rediscovering Joy Through Thankfulness

by DeWayne Hamby
Copyright: June 2016
Publisher: White Wing Publishing House
Summary: In a culture of ever-increasing noise, it sometimes becomes difficult to focus solely on the rich, joy-filled, abundant life found in Jesus Christ. Because of informational clutter and even negative attitudes from others, many people struggle with discouragement, doubt, and fear, even though God's love is still real and His plans have not changed. When we live in an awareness of His incredible grace and love, the natural outcome is that we live with a spirit of thankfulness. With everything Christ has done for us, and all that He has promised, how do we make sure that our hearts are joyful?
In Gratitude Adjustment, DeWayne Hamby points the reader to moments in life where God is speaking about how He loves us, His plans for our lives, and how to love others as He does. Through humorous and moving personal , biblical examples and character studies, the author brings the reader to a place of joy-filled thankfulness that can be lived no matter the circumstances.

Read the book's endorsements by Warren Barfield, Drew Dyck, Sam N. Clements, Russ Lee, Rik Swartzwelder, Brian Sutton and Darren Schalk
ORDER through Amazon or White Wing Books.