Teen romance gets a wildly dramatic remix in "Words on Bathroom Walls," releasing Friday from LD Entertainment/Roadside Attractions. Adam (Charlie Plummer) is a typical teenager with a not-so-typical mental illness, placing him at odds with some unsympathetic authority figures. His silent struggle with schizophrenia, accompanied by hallucinational images and voices, upends him from his friends and his high school. He soon lands at a Catholic school with another attempt at normalcy.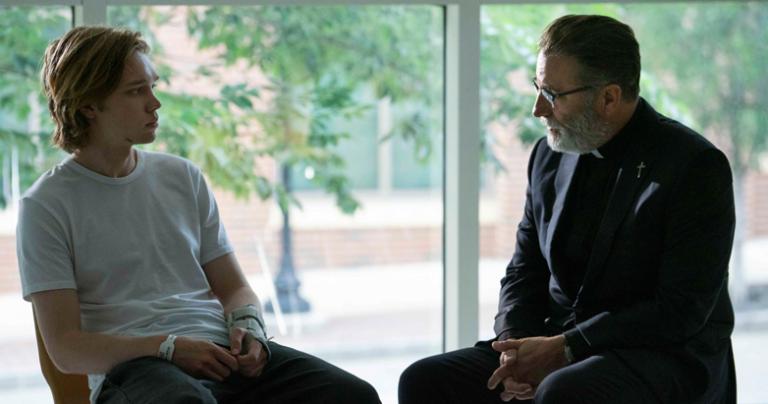 At the new school, Adam is befriended by Maya (Taylor Russell), a brainiac with a few issues of her own. The friendship quickly evolves into something more, even while Adam hides his condition, including three personalities who speak into his life, played by AnnaSophia Robb, Lobo Sebastian, and Devon Bostick . Those who are aware of it includes his mother Beth (Molly Parker), her new boyfriend Paul (Walton Goggins), and a priest who he confides in (Andy Garcia).
Adam struggles with solutions to his issues, including an experimental drug that produces side effects that silence the voices but threaten his real-life relationships. He fights through the noise, clinging to his love for Maya, godly wisdom from the priest, and the love of his family.
The material is heavy, but "Words on Bathroom Walls" manages to provide moments of levity through the voices in Adam's head and his interactions with Maya. Like her impressive turn in last year's "Waves," Russell is a standout, exhibiting charisma, wisdom, and innocence. Plummer also expertly portrays the angst of a teen waging an unusual mental battle.
For many, faith is an anchor point in a war such as this, and the film addresses that through Garcia's man of the cloth. "Our Lord embraces all children, even those with challenges," he tells Adam. Although he doesn't believe, Adam still tells the priest of his communication with God; "Could you tell him to rethink his agenda, because it seems like I'm getting the short end of the stick?"
"Words on Bathroom Walls," rated PG-13 for mature thematic content involving mental illness, some sexual references, strong language and smoking, is an inventive, original and affecting story about of a family struggling with mental illness. It strikes a perfect balance of humor, romance, and drama with standout performances from Charlie Plummer, Taylor Russell and Molly Parker.