In the terrifying new thriller "Antebellum," Janelle Monáe stars as a successful author haunted by a connection to an atrocity of the past. Written and directed by Gerard Bush & Christopher Renz, the film places a spotlight on the horrors of slavery while unraveling a modern-day mystery.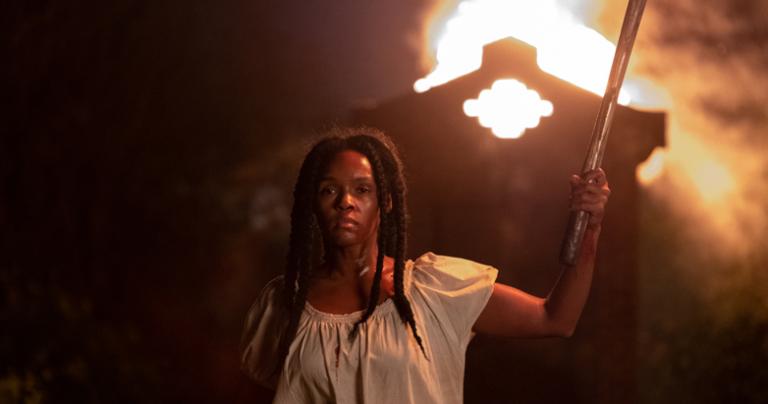 Establishing itself with a long single shot of Civil War-era plantation life, attention is soon turned to the mistreatment of slaves, including Eden, a young woman and her friends receiving punishment for as escape attempt. New arrivals are quietly drawn to Eden as a source of hope, if her spirit has not been totally broken by Captain Jasper (Jack Huston), his wife Elizabeth (Jena Malone), and the owner known as "Him" (Eric Lange). Abruptly, the film transports to the present life of Veronica (Monáe), a modern doppelgänger of the tormented slave.
Veronica is outspoken, progressive, a political sparring partner on the news, and a target of racists and sexists. Undaunted, she persists and finds comfort in her loving family and devoted friends, Dawn (Gabourey Sidibe) and Sarah (Lily Cowles). As her near-perfect life plays out, an evil presence is near. As the story reveals itself, the horror arrives in full view.
Unlike many horror films, "Antebellum" has moments too difficult to watch, not because of otherworldly forces but all-too-familiar real-life wickedness. Whether or not carried out in its most violent outlet or in subtlety, racism in human hearts is the true villain. Like "Get Out" which shared this film's producer Raymond Mansfield, "Antebellum" uses horror as social commentary and as an ominous admonition. Can Eden escape and society ever move beyond such evil?
Swapping dual roles, Monáe ("Homecoming," "Harriet") is a capable lead. She excels more as Eden, where her resolve is tested and emotions run high, while the accomplished Veronica is poised and polished. As an antagonist, Malone, best known for the "Hunger Games" series, projects the creepiest of sinister intentions.
"Antebellum" releases from Lionsgate on demand Sept. 18. It is rated R for disturbing violent content, language, and sexual references.