Bob Odenkirk takes a high-octane action movie detour in "Nobody," releasing Friday from Universal. The "Better Call Saul" actor steps into the shoes of common, everyday husband and father Hutch Mansell, who is provoked by a home invasion to return to a previous life of violence and revenge. Connie Nielsen, RZA, Alexey Serebryakov, and Christopher Lloyd also star.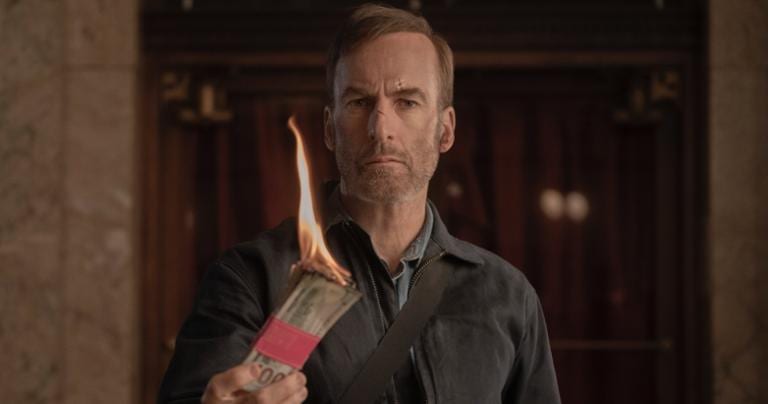 Humiliated and filled with rage after losing property during a break-in, Hutch sets out to recover lost property from the burglars, but along the way, finds the journey more complicated for both him and his wife, teenage son, and young daughter. He ultimately crosses a dangerous path with crime boss Yulian Kuznetsov (Alexey Serebryakov), who in turn unleashes his own fury and a small army against the suburban warrior.
If it sounds familiar, it's designed that way. "Nobody," written by "John Wick"'s Derek Kolstad is a first cousin to films such as that Keanu Reeves trilogy and Charles Bronson's "Death Wish," although grounded a bit more in reality. Hutch isn't bulletproof and suffers through his fair share of war wounds. He also shows a bit more compassion to some of those who wrong him, such as performing a life-saving procedure on a would-be murderer. Casting the ordinary man Odenkirk, not previously known as an action star, is also a bold move reminiscent of Bruce Willis' action breakout "Die Hard." "Back to the Future" star Lloyd also makes his own splash as Hutch's father.
The tone, set by director Ilya Naishuller ("Hardcore Henry") feels fresh, frequently using easy listening standards while Hutch makes his way through his assailants. Unlike similar films, the action slowly ramps up as the story unfolds, sometimes lending itself to a crime noir vibe.
Ultimately, "Nobody" is a worthy entry into the action/revenge genre with a few heartfelt moments and a lot of flying fists. Odenkirk is a relatable and likable new action star. It will be interesting to see where Hutch's story could go from here.
"Nobody," rated R for strong violence and bloody images, language throughout, and brief drug use. releases Friday, March 26, from Universal.