Nearly twenty years after its initial run, the Disney animated series "The Proud Family," which originally ran on The Disney Channel, returns with an all-new Disney+ show, "The Proud Family: Louder and Prouder." The revival, created by Bruce W. Smith and Ralph Farquhar, features the original characters Dijonay, LaCienega, Zoey, and Michael, along with newcomers Maya and KG and places the action squarely in the 2020s.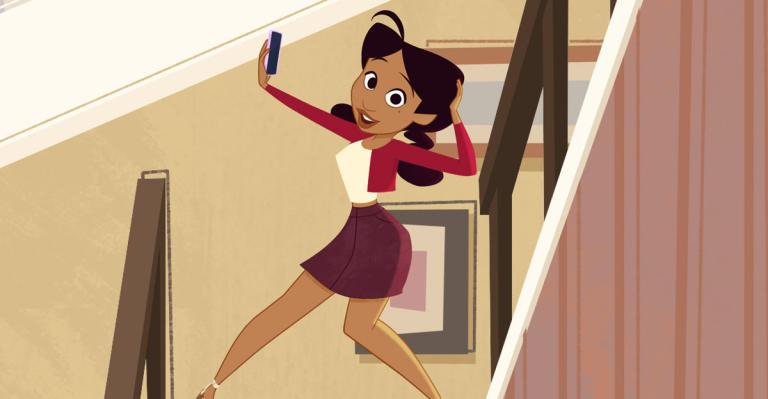 Executive producer Farquhar, along with Alisa Reyes ("LaCienega Boulavarde") and Paula J. Parker ("Trudy Proud") recently spoke to Reel Faith's DeWayne Hamby about how the update addresses current social topics and what part faith and Christian principals might play in how the characters interact.
Ralph, at what point did someone decide to revisit "The Proud Family" all these years later?
Ralph Farquhar—Bruce and I had been approaching Disney religiously since we left, I guess, in 2005, to bring us back because, you know, quite frankly, a Bruce created the show because there was no African American family presence in the animated world. And since we went off, no one came up in our place. So we're like, "Come on, we got to come back, we got to come back." And then three years ago, we got a call, we think it's because honestly, the creation of Disney plus and us being a Disney IP, we were a natural to tap. So, we're for whatever reason, and whoever did it. We're thankful and excited about being back.
It feels like we're kind of in the golden age of creativity, especially with the avenues for streaming. Elisa, this series is for kids, obviously, but it has things that adults will appreciate as well. So, what do you think that kids and adults will be able to take away from this series?
Alisa Reyes—Playing Laci and a couple of artists who were just spunky and sassy and represents the Latin culture which I myself, I'm also, I'm you know, I'm Irish, Italian and Dominican. So for me, I feel like it's going to, you know, share cultural experiences, it's going to share topics that are just also about morals and principles, and good old-fashioned lessons. We are also immensely diverse. So, I like to call us a little bit of the United Nations, we have a demographic for the masses. And, you know, we're also going to be sharing things that were, you know, topics in regard to like social media that we didn't talk about before, activism, everything that's happening in today's world. We're able to intertwine all the way down to, you know, just sharing about same sex marriage and the LGBTQ community. So, I feel there's a little something for everyone. And we're hoping that when people sit down for dinner, they can put their cell phones away, and they could sit down and maybe talk about what they watch on "The Proud Family Louder and Prouder." And maybe we're able to help enhance a family, discuss topics that they didn't necessarily know how to discuss within their dynamic. And at the end of the day, if we can just touch one person, whether it be an adult or a child, whether it's the previous generation that watched the show all the way down to the new fans, couldn't ask for more as being a part of the cast.
Patheos is a faith site, and our readers are diverse and religious. Will the series touch on religion at all?
Paula J. Parker—You mentioned the strides that we have made in streaming and in you know, our viewing preferences and the things that we are able to do but there are also things that we're missing like the (stop motion animation) David and Goliath show. They don't have those shows right now for kids. Religion has been suppressed within the community, sometimes within the church, but within the school system. Now we can help parents talk about things that they would have been able to talk about in Sunday school. But now, you know, it's not as prevalent or pushed as much as it was before when we were growing up. Now we're able to discuss things that we weren't, we didn't see on Davey and Goliath, like, EJ, Jr. is now a part of our cast. So topics that were poo-pooed back when we were first coming out, we're able to talk about, with God at the heart, because we are all creations of.
Ralph Farquhar—We don't talk about a religion, per se, but we certainly promote the principles that most religions promote, such as tolerance, love, acceptance, love of ourselves, and things like that. I think we go at the spirit of things from a family dynamic, certainly specifically from an African American point of view, in terms of the nuances, of topics that we tackle. So that's how we play it out. While we can't express a specific faith, we certainly know that this family and the families depicted come from a place of love and tolerance. And that's, and that's what "The Proud Family" is about. That's actually what "The Proud Family" stands for.
Alisa Reyes—And what I love is it's about loving thy neighbor and the Boulavardez family, we definitely go back and forth with the crowds. At the end of the day, we love thy neighbor. When I had elaborated about the morals, principles, and lessons, that is a big factor for me, God comes first, Jesus comes first. That is the first thing I acknowledge when I wake up every morning, and I do a special prayer at night with my husband and my six-month-old, and I do it every morning as well. I just got done baptizing my daughter, and to be able to be a part of kid-friendly content that I can now sit down with my daughter and be able to watch, at the end of the day, even though we all have our little trials and tribulations in each episode, I feel every family, no matter what ethnicity, no matter what culture will be able to sit down and learn a lesson a moral and a principle. Why I keep saying that is because sometimes it is about having a little bit of faith and optimism. Sometimes it is about just getting through the day and that golden rule of how you treat others you wish to be treated. So even though Ralph elaborated, we may not be sectoring in on a specific religion, but at the end of the day. It's like that universal subconscious. It is there and it's going strong.
"The Proud Family," executive produced by Bruce W. Smith and Ralph Farquhar and starring Kyla Pratt, Tommy Davidson, Jo Marie Payton, Paula Jai Parker, Cedric the Entertainer, Keke Palmer, Alisa Reyes and more is now streaming on Disney+.