Church youth group alumni and Christian music fans will find plenty to relate to in the new film "Electric Jesus." The comedy, centering on a Christian rock band humorously navigates the road to fame, was written and directed by Chris White and stars Brian Baumgartner ("The Office") and Judd Nelson ("The Breakfast Club"). Although Baumgartner is featured as the flashy promoter Skip, sound man Erik (Andrew Eakle) is the central figure and narrator for the coming-of-age story, may seem like a sendup at first, but White insists it's more nostalgia.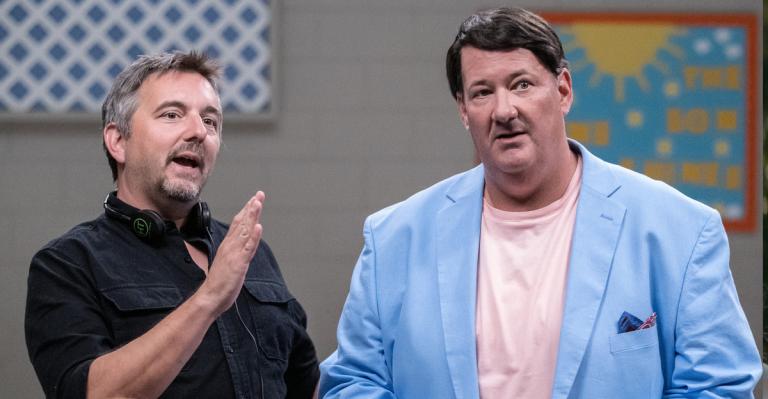 "I grew up in the Evangelical church, youth group culture and Christian music, part of that world," White said. "We just we wanted to have fun with the characters not make fun of the characters. And I think that would be where we try to settle in on a tone that's kind of nostalgic. It's not a parody."
Baumgartner, who also grew up in church youth group, attending Christian schools and listening to his "Mom's favorite artist Amy Grant," gives an unbridled performance as Skip, a man in over his head deeply entrenched in the film's 80's culture. His blunders provide several of the film's more memorable and humorous moments. It might be easy to label him as a bad guy, but the actor explained he sees him as a man caught trapped by his own limits.
"Just because a character is pretending that doesn't mean that the character is bad, but that the character is pretending and trying to hide these things that are going on inside," Baumgartner explained. "But that doesn't mean he's not well-intentioned."
How Social  Media Saved One of the Biggest Comedies of All Time
White acknowledges comparisons of the film to classics such as "Almost Famous" and "Napoleon Dynamite," and added that he loves Brian's character, who is "a real kind of broken guy."
Skip positions himself as the adult chaperone among a group of young adults on the road, and in that way, Baumgartner related to him in coming to the project after it had been developing with the cast.
"A lot of them had been working on this movie for a long time with Chris at various lengths of time," he said. "So, there was a part of me that just didn't want to want to mess that up. The timing of me being introduced to them mirrors the movie in a way in that I showed up a little bit later, and kind of got my feet wet quickly and met everybody."
Through their time together, filming in the hot Georgia sun, Baumgartner bonded with the young actors, including Eakle, Caleb Hoffman, Shannon Hutchinson, Wyatt Lenhart, Will Oliver, and Gunner Willis.
"I became very friendly and loved all of them," he added. "I think they're all uniquely talented and have a lot to offer. They were so courageous and brave and willing to try different things, which for me, is the most admirable quality for an actor."
Most of "Electric Jesus" is filled with laughs but toward the end, the story takes a more dramatic turn. For White, it puts a whole spin on what's happened on the road with the band, and how even in the middle of the twists and turns, they discovered community and friendship.
"Erik is starting to realize over the course of the movie that 'Maybe this wasn't about me, maybe it was somebody else'," he said. "It takes him a long time to figure out who it was really about. But when he does, that's where I think the emotional punch comes from. I think that's a powerful moment for all of us."
White has received positive reactions from those who grew up in youth group culture and even Christian musicians. The film isn't "agenda-driven," he says, but just a way to shine a light on a certain segment of the culture that he and many others happened to grow up in and love.
"A lot of times, I feel like that world I grew up in, nobody knows about it," he said. "We were kind of goofy jokey teenagers, but we were also devout. We were serious about our faith. I know some people have not had good experiences with church or their youth group. I happened to have a really good one. But I even think people that are away from that or have distanced themselves from that can find a kind of nostalgic happiness in watching 'Electric Jesus.' I think it really does connect with a lot of people for a lot of different reasons."
"Electric Jesus," written and directed by Chris White and released from 1091, is now available on digital outlets. For more information, visit the film's website. The film's soundtrack is also available for streaming.
Watch an exclusive interview with Brian Baumgartner and Chris White below.