How, through our vocations, we are the means through which God bestows blessings.
Consider all the effort that goes into a humble peanut-butter-and-jelly sandwich. It's relatively easy for me – I simply go to the cupboard, open a couple jars, and slap two slices of bread together. But it's so convenient only because hundreds, perhaps thousands, of others have faithfully fulfilled their personal vocations on my behalf.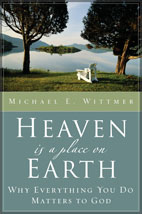 I can't possibly list them all, but there are the growers of the peanuts, strawberries, wheat, and whatever other ingredients go into making peanut butter, jelly, and bread. Then there are the factories and mills that process the ingredients, the truckers who haul the loaves and jars to town, and a store full of stockers and cashiers who sell them to me.
I might add those organizations that mined and smelted the stainless steel for my knife and processed the paper for my plate, together with their transportation systems. Each of these groups represents businesses with administrators, secretaries, financial officers, purchasing and marketing agents, and human resource personnel.
If I could somehow add it up, I'd probably be dumbfounded by the number of hands that either directly or indirectly contributed to my midmorning snack.
The Reformers noticed this reliance on others and praised God for it, for they believed that those who use their vocations to serve us become the hands of God in our lives. As Martin Luther explained, "We receive our blessings not from them, but from God through them. Creatures are only the hands, the channels, and means through which God bestows blessings."
__________
Image of sandwich by ajsarts. Used with permission. Sourced via Flickr.
– Originally from Heaven is a Place on Earth: Why Everything You Do Matters to God