S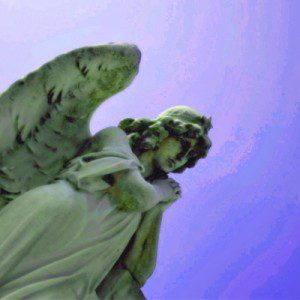 everal years back, MercyMe produced a song that was a Christian hit – "I Can Only Imagine," where they wonder what they will do once they get to Heaven.
"Surrounded by Your glory / What will my heart feel
Will I dance for you Jesus? / Or in awe of You be still? /
Will I stand in your presence? / Or to my knees will I fall? /
Will I sing hallelujah? / Will I be able to speak at all? / I can only imagine."
It's a good song of worship and awe. We can only imagine what our response will be when we are in the full presence of God.
No Need to Imagine
But there's another imagining going on, and it is not so good. Since we've lost sight of what the Bible teaches about life after death, we are imagining all sorts of things that are just not true. Sadly, today's evangelical Christians only possess a foggy notion of life after death.
Our hope is often articulated with "We, as Christians, will go to Heaven when we die." We preach it in sermons, sing it in hymns, we say it at funerals, and cling to it when we are hit with hard times.
Our ultimate hope is Heaven, so the thinking goes. But we really haven't grasped what this "Heaven" is, so we imagine some eternal place where we will live in spiritual bodies outside of space and time, away from this earth and up with God. But this is only an imagination.
Heaven and Earth
In 2 Kings 6:15-19, we read the story of Elisha and his servant surrounded by the chariots and horses of the army of Syria. The servant is frightened, asking, "Oh no! What shall we do?" But Elisha reassured him with these words: "Don't be afraid. Those who are with us are more than those who are with them." And then Elisha prayed, "Open his eyes, LORD, so that he may see." And the servant was able to see this heavenly dimension, where the hills were "full of horses and chariots of fire all around Elisha."
Heaven is where God is (along with his angels); Earth is where we are. We just can't experience that other dimension unless God does something miraculous during our life. But we will experience that dimension when we die.
Jesus says to the one criminal on the cross, "Today you will be with me in paradise" (Luke 23:43). The promise was that he would enter into a new place along with Jesus after they die. But "paradise" may not mean what we might think it means. Both the Jews of Jesus' time and the Early Church Fathers taught that "paradise" is the intermediate resting place for the souls of the righteous dead. Paradise was never construed (that is until recently) as our final destination.
Paul, like Elisha's servant, was given the opportunity to see this "paradise" where he "heard inexpressible things, things that no one is permitted to tell" (1 Corinthians 12:4), and he is confident to say that, weighing life in paradise with life in the fallen world, "to depart and be with Christ is far better" (Phil. 1:23).
But we mistakenly combine "paradise" (the intermediate state) with our actual future destiny. There are actually two stages, one then the other. The first is our going to be with Jesus in paradise," the second is our resurrecting from the dead to live forever in the new heaven and new earth.
As N. T. Wright often states, the Bible teaches life after life after death. The first "life" is an intermediate state; the real destiny, the life after life after death, is a resurrected life.
In the Day of the Lord, our souls that are in paradise will reunite with our bodies and we will become fully human again. As Mike Wittmer says, "Our departure from this world is just the first leg of a journey that is round-trip."
The final goal has never been to get humans away from here and get them into heaven. The ultimate goal is so much more wonderful.
The Future: God will Reintegrate Heaven and Earth
What the Bible teaches is that our destiny is not in some ethereal Heaven somewhere up there but a physical existence right down here on a renewed earth with heaven reintegrated with it.
John sees this in a vision of the future (found in Revelation 22:1-5), and hears a loud voice proclaim,
"Look! God's dwelling place is now among the people, and he will dwell with them. They will be his people, and God himself will be with them and be their God." (v. 3).
In the end, God the father reintegrates heaven and earth. We do not go "up" to heaven to dwell with God. Rather, God comes "down" to earth to dwell with us!
This is the "new heaven and new earth" (v. 1). It certainly can be difficult to understand what the Bible means by "new" here, since the verse says, "Then I saw a new heaven and a new earth, for the first heaven and the first earth had passed away." This "newness" should not be understood as a replacement for the old heaven and old earth. The "newness" is found in the fact that "the old order of things has passed away" (see verse 4). What will "pass away" will not be the actual places, but the "old order" of how those places related to one another. The old order of the separation of God from humanity will be over! God will forever dwell with us!
God's plan is not to scrap the incredible creation that he made (which he called "very good" – see Genesis 1:31) and start all over again. He will
not
make
all new things
. In fact, he says the opposite: "I am making
all things new
!" (v. 5)
Physical Resurrection is Our Future Hope
So back to the question, "What happens when we die?" Popular Christianity has taught us that we escape our fleshly bodies and go up to a non-physical Heaven to dwell forever. But as we've said, our separating from our dead bodies and going to be with Jesus is not the end of the story! God loves the fact that he created humans to be human. Human beings, made by God, were deemed "very good" and worthy of redeeming. So, God wants to restore humans to what they should be.
And one of the big things that humans should not be is dead! The gospel is not good news unless death is conquered. And death is not conquered if all we do is leave our bodies. That is escaping, not conquering.
Jesus Christ was raised from the dead. Truly. Physically. Raised. Not some nebulous spiritual resurrection, but his actual dead body came back to life. And, according to 1 Corinthians 15, because of the reality of Jesus' physical resurrection, we are assured of our own physical resurrection!
When will this happen? Nobody knows but God. But we do know it will come "in a flash, in the twinkling of an eye, at the last trumpet" (v. 53). In other words, talk that loved ones that have passed away are already in their resurrected bodies and walking the streets of gold in Heaven is misconceived. Resurrection is still a future event.
At that time, the dead will be raised. Our bodies will certainly be different, but they will also be somehow the same, for "the perishable must clothe itself with the imperishable, and the mortal with immortality (v. 53). Only when we are truly, physically raised from the dead will the saying that is written come true:
"Death has been swallowed up in victory." "Where, O death, is your victory? Where, O death, is your sting?" (v. 54-55).
Resurrected to Live in the New Heaven and New Earth
Now do you see how it all ties together?
God's plan is to renew the creation (or as Romans 8:18-22 puts it, "the creation itself will be liberated from its bondage to decay and brought into the freedom and glory of the children of God").
And God intends for humans to dwell in this renewed creation. Not only humans, but God himself will dwell in this new heaven and new earth reintegration.
Rightly Understanding Resurrection Changes the Way We Live Today
So, some questions to ponder…
If the Bible actually teaches that the creation is "very good," and that God's intention is to renew it, how does that inform what we are currently called to do to bring about renewal through our vocations?
If God's goal is to wipe away every tear caused by injustice, how does our work to overcome injustice participate in that goal today?
We know that we can't build the kingdom of God ourselves and that it will only come to full fruition when Jesus returns. But are we supposed to just bide our time and wait?
God's goal for each of us personally is not merely to save us and then leave us alone with just the guarantee of Heaven. We are confident "that he who began a good work in you will carry it on to completion until the day of Christ Jesus" (Philippians 1:6). God is transforming us, sanctifying us, readying us for eternity. When we are resurrected, the good work will be completed – we will be renewed as full human beings, able to image God. So, in the same vein of thought, if the world will be renewed and brought into its intended fulness in the day of Christ Jesus, what is God intending us to do to make the world a better place in the here and now? How is God sanctifying the world through us?

And if all things will be renewed, made to exist in the new heaven and new earth, how does that inform our work? How will our work carry over into that new heaven and new earth? Some of it will certainly not be worthy (it will be "wood, hay or straw"— burned up in judgment), but won't some of what we do somehow make the transition, for it is "gold, silver, and precious stones"? (see 1 Corinthians 3:10-15)
In 1 Corinthians, with the promise of resurrection as the backdrop, why does Paul tell us in the last verse (v. 58) to "always give yourselves fully to the work of the Lord, because you know that your labor in the Lord is not in vain?" Can we be confident that work done for the renewal of the world, for the making of things right again, for the betterment of those around us, is not meaningless? How does our good somehow last into the new heaven and new earth?
How does knowing that you will one day be raised from the dead change the way you live your life today? Just imagine!
---
Image by Francesca Degli Angeli. Used with permission. Sourced via Flickr.