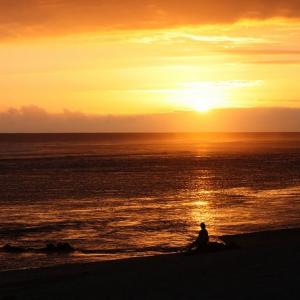 As we enter into Spring, our family has been talking about what we want to do for Summer Vacation. We want to get away from our mundane, day-to-day life and go somewhere else, somewhere where we can experience adventure, relax when we want – somewhere exciting.
As I grow older, discussions start about retirement. A time in the future when we can no longer be tied down to the lives we currently have – where we are free to do what we want when we want. We can even do nothing if we want!
Vacations and retirement: Our perception of what brings joy can be skewed by these concepts. We have been programmed to think that hope and happiness comes from getting away from it all. We have lost the reality of true hope: That the life we live on a day-to-day basis is meant to be wonderfully full of flourishing and joy. That hope is not getting away from that life; it is the renewal and restoration of that life.
Heaven is Great, But it's Not the End of the World.
The ultimate skewing of our perception of hope in a better future is our understanding of heaven. We think that the answer to our pain, our daily frustrations, our illness and brokenness, our crumbling culture, and all that we see wrong in the world is to escape to some other place called "Heaven."
But the Bible makes it clear (how do we consistently miss this?) that our hope is in the restoration of all things. Our hopes and dreams do not need to evaporate as we head off to another place – they can come to fruition at the renewal of all things.
Go through the Gospels and look for Jesus' teachings on Heaven. You'd think that if Heaven is the ultimate hope for mankind that the Lord would teach a whole lot about it! But he simply does not. What he proclaimed was not the hope of Heaven but the hope of the Kingdom of God. And the Kingdom of God means that God takes control of life again. He rips our lives out of the claws of Satan, sin, and death. He restores our lives to the way God intended them to be. The Kingdom of God is when Jesus is Lord of all of life again, making it the way it is meant to be. This is our promised future!
Jesus taught that "Truly I tell you, at the renewal of all things, when the Son of Man sits on his glorious throne…everyone who has left houses or brothers or sisters or father or mother or wife or children or fields for my sake will receive a hundred times as much and will inherit eternal life" (Matthew 19:28-29).
"At the renewal of all things." That's right! Jesus says that the future has hope not because God obliterates this existence and sends us off to Heaven, but because everything will be renewed.
John heard it proclaimed by God in the Revelation: "Behold, I am making all things new." (Revelation 21:5).
The hope we should have for our future is not an escape to Heaven, but a restoration of life as it should be on Earth!
N. T. Wright makes this observation:
"The first Christians did not simply believe in 'life after death'; they virtually never speak simply of 'going to heaven when they died' (as I have often said, heaven is important but it's not the end of the world); and when they do speak of heaven as a post-mortem destination they seem to regard this 'heavenly' life as a temporary stage on the way to the eventual resurrection of the body." (Surprised by Hope, p. 52).
In his new book, All Things New, John Eldredge tells us that our hope for the future needs to be realigned to the Bible.
"I'll be honest—far too often what gets presented as the 'hope' of Christianity feels more like a bait and switch. 'We understand that you will eventually lose everything you love, that you have already lost so much. Everything you love and hold dear, every precious memory and place you will lose, but afterward you get to go to this New Place Up Above!'… Escapism isn't going to do it… What we ache for is redemption; what our heart cries out for is restoration" (p. xi).
Everything Matters to God – And is Worthy of Restoration
Where do you place your hope? I understand that life is difficult. Believe me, I understand (I am yet again painfully recovering from another major surgery, after writhing in agony for a week). The thought of getting away is indeed attractive, like going on a vacation away from it all.
But our hope is meant to be found in so much more: It is the redemption of that pain. It is the restoration of life so that we can experience the flourishing joy that God always intended for us.
It is, astonishingly, not The Great Escape, but The Great Life You Were Always Meant to Live.
That means that your work, your family, your friendships, your accomplishments, your hobbies, your dreams – everything – matters to God and is worthy of restoration.
After a long vacation, do you know what I actually look forward to? Getting back home! As nice as Heaven will be in the immediate aftermath of my death, I look forward to being resurrected and living here on a renewed earth. I will be home, and God will dwell here with me forever (see Revelation 21:1-5).
---
Image by Mathieu Cartoixa. Used with permission. Sourced via Flickr.