Can we be dedicated Christians and still indulge in the pleasures of this earthly life? Can we go to the beach, eat at a great restaurant, watch an exciting movie, play our favorite video game or sport, and still be pleasing to God? How do we reintegrate our faith into every aspect of our lives, even the stuff that we don't think of as the "spiritual" aspects of life?
Or as today's guest phrases it, "Can you serve Jesus and still enjoy your life?"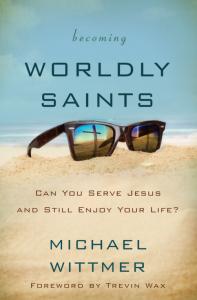 That's the subtitle of Mike Wittmer's book, Becoming Worldly Saints: Can You Serve Jesus and Still Enjoy Your Life? (Zondervan, 2015).
Michael Wittmer is Professor of Systematic & Historical Theology and the Director of the Center for Christian Worldview at Grand Rapids Theological Seminary. He is the author of lots of articles and several books, including his first two books, Heaven Is a Place on Earth: Why Everything You Do Matters to God (Zondervan, 2009) and Don't Stop Believing: Why Living Like Jesus Is Not Enough (Zondervan, 2009).
Thanks for listening! If you like this podcast, please write a quick review at Apple Podcasts or your favorite podcast app to encourage others to listen too.
Go to https://www.re-integrate.org/ for years worth of articles on reintegrating your callings with God's mission, resources for further learning, links to the Reintegrate YouTube channel, and more.
On Reintegrate's podcast page, you'll find ways to email us or call us to comment on this podcast.
Purchase Mike Wittmer's books from a trusted independent bookseller, Byron and Beth Borger at Hearts and Minds Bookstore.
Listen to the podcast on your favorite app