The Seamless Life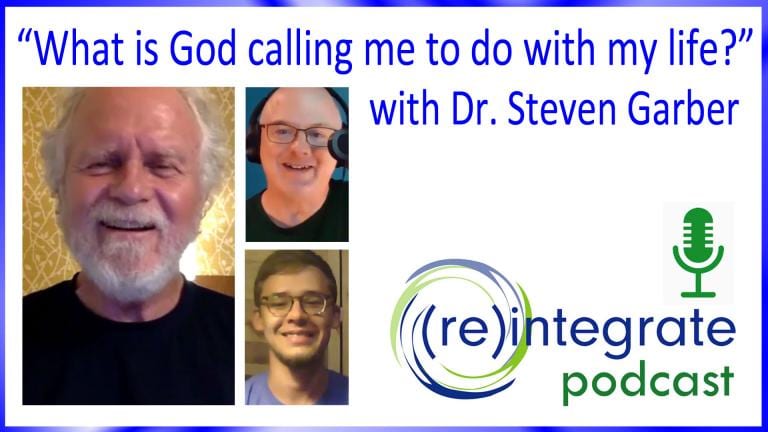 Now that I know what I know (about myself, this world, and God), what am I going to do with my life?
According to Dr. Steven Garber, this is the essence of the word, "Vocation." For decades, Steve has been thinking and writing on the deep things of vocation, on finding a vision for life, responding to the call of God, and how to live wisely so that our ordinary lives are filled with meaning and purpose.
Steve discusses these topics with Brendan Romigh and Dr. Bob Robinson, providing insights for people Bob's age (in his mid-life crisis) and Brendan's age (in his quarter-life crisis) and everyone in between.
What is the difference between "vocation" and "occupation?"
Do you have a vision for life that shapes what you will do day-by-day, year-by-year?
As you live in a "dis-integrated" and frustrating world, how do you "re-integrate" so that all of life has meaning and purpose?
What does it look like to live in light of God's wisdom?
BIO: Dr. Steven Garber has been the wise sage of the faith-and-work movement for decades. He started The Washington Institute for Faith, Vocation and Culture, has mentored scores of pastors and marketplace leaders, served as a consultant for foundations, corporations, and universities, has taught at seminaries and colleges, and has written amazing articles and fantastic books. His wife is Meg and they have five children and several grandchildren.
His latest book is The Seamless Life: A Tapestry of Love & Learning, Worship & Work (InterVarsity Press).
Two of his earlier books have made a deep impression upon Bob and his way of life and of doing ministry: The Fabric of Faithfulness: Weaving Together Belief and Behavior, and Visions of Vocation: Common Grace for the Common Good (InterVarsity Press).
Please consider purchasing these books from our friends Beth and Byron Borger, independent bookstore owners of Hearts and Minds Bookstore! https://www.heartsandmindsbooks.com/booknotes/
Links to things discussed in the podcast:
Washington Institute for Faith, Vocation and Culture
Steven Garber, "Making Peace with Proximate Justice"
Walker Percy, The Second Coming
Thanks for listening!
Go to https://www.re-integrate.org/ for years' worth of articles on reintegrating your callings with God's mission, resources for further learning, links to the Reintegrate YouTube channel, and more.
On Reintegrate's podcast page, you'll find ways to email us or call us to comment on this podcast. https://www.re-integrate.org/reintegrate-podcast/
If you like this podcast, please write a quick review at Apple Podcasts or your favorite podcast app to encourage others to listen too.
Listen to the podcast on your favorite app