The Doctor Who episode "Galaxy 4"
is another of the lost episodes which can be enjoyed in audiobook form. And it is one that confirms my sense that audiobooks are an ideal way to experience these early episodes. I listened to the story, and then in preparing to blog about it, I looked for photos from the episode, since even though the televised footage is lost, photos from the episode as a rule still exist.
The images available illustrate well that the episode's special effects were unimpressive by today's standards, which is no surprise, and that the costumes and hairstyles likewise date the episode.
My imagination, I think, did a better job, and the story itself (the audiobook is the original sound from the broadcast episode with occasional narration added to clarify what is happening) is an excellent one.
The main focus of the story is on a recurring science fiction theme, that of prejudice. The details, in fact, might remind one of that later sci-fi exploration of the same theme, Enemy Mine
.
The story begins with the Doctor, Vicky and Steven arriving on a planet that seems suited to life and yet eerily silent. They soon encounter some robots, which they end up referring to as "chumbleys." They are then "rescued" from the robots by the human-like Drahvins, who are all females.
The Drahvins tell the Doctor and his companions of the Rills, who they describe as horrible creatures, and responsible for their being marooned on this planet and for the death of one of their soldiers.
As it turns out, the Rills do not look attractive from a human perspective: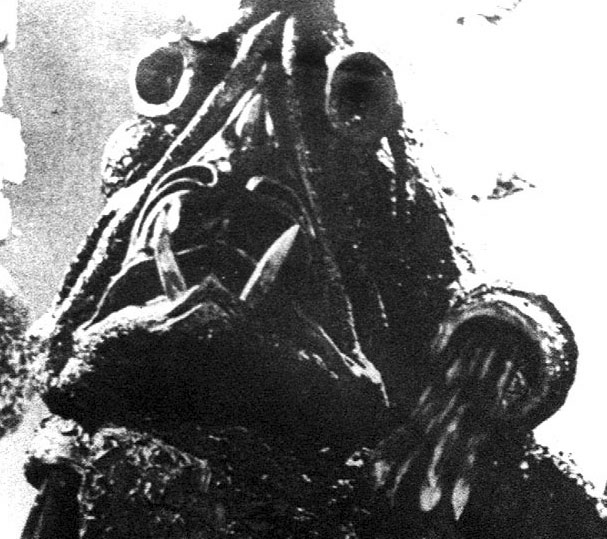 But their character turns out to be far more noble than the Drahvins, who are sly, manipulative and warlike.
Of course, since this is Doctor Who and some things never change, the planet on which the Drahvins and the Rills are marooned is going to explode. The Doctor manages to help the Rills, who in turn provide assistance, allowing both to escape, while the Drahvins' own attempt to ensure that only the Drahvins themselves escape results in their being left behind.
The message is not subtle, but neither is the viewer beaten over the head with it. The point of the episode is communicated effectively, and its challenge remains an important one.
But it is still perhaps best appreciated by listening, and so I apologize if the photos I shared in this blog post interfere with your imagination doing better, should you choose to get hold of the audiobook and have a listen yourself.