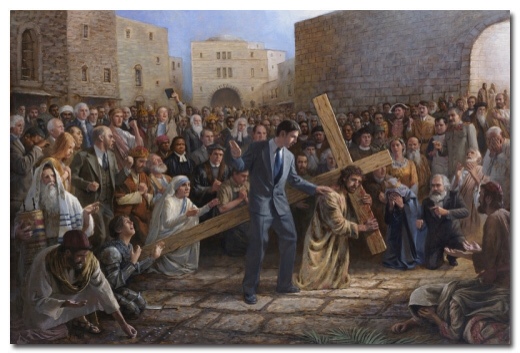 It is a scenario that some science fiction stories have explored – Gary Kilworth's "Let's Go To Golgotha!" and Michael Moorcock's "Behold The Man" come immediately to mind. Even I have a story involving time travel to first century Judaea that I would love to write. But even if you haven't read such stories, I will bet that something like that crossed your mind when you saw the painting above.
That painting by Jon McNaughton is
one of several featured in a piece on the Cracked web site
, about religious art that intended to communicate one thing, but to many who see it conveys something else (HT Michael Wilson on Facebook). Some of the comments in that article about the various historical figures depicted in the painting will probably make you laugh out loud. Please refrain from clicking through if you have a beverage in your mouth and your iPad or laptop on your lap in front of you.
Feel free to comment on time travel to first century Palestine, or share your own examples of religious artwork gone awry – whichever you find more interesting!