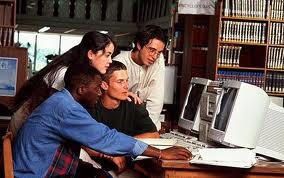 In my current teaching, I focus increasing amounts of attention on the discerning use of online sources of information. People no longer rack their brains to recall facts learned in school. They will pull out a device and look up what they want to know. And so, while some factual information is crucial in order to be discerning in this way – one cannot spot counterfeit money without experience of handling the real thing – the skill of evaluating sources to determine (1) their reliability/trustworthiness and (2) whether they represent a scholarly consensus, one view among many in a hotly contested field, or an idiosyncratic individual perspective.
I have tried getting students to review blogs which talk about a topic, evaluating them in light of scholarly sources. I have tried getting students to contribute to Wikipedia and similar sites. This semester I will have some students make PSA videos which hopefully will eventually end up on YouTube.
All of you use online sources – you are reading one now! I would be interested to hear what skills and tips you have found useful in either becoming more discerning yourself in your use of online sources, and if appropriate, how you have passed on such wisdom to others. And for those of you who either teach or are or have been students during the digital era, what activities, assignments, and advice has been part of that? What things have worked well, and what things have turned sour?
I am particularly interested in coming up with creative assignments that can really help students develop and hone these sorts of information literacy skills.