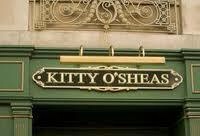 The supreme council of biblioblog overlords has decided…OK, so of course there is no such thing, but some of us have chatted and have suggested a venue and two possible times for the bibliobloggers' gathering this year in Chicago at SBL. We will gather at Kitty O'Shea's, an Irish pub at the Chicago Hilton. You can see their menu online.
The question is whether to gather at around 7:00pm on Sunday night, or 8:30 or 9pm on Monday night.
And so, because my first sentence was intended to be humorous precisely because bibliobloggers have no central authority structure (it's true, Jim), I am calling upon bibliobloggers to express their preference.
If both work equally well for everyone, then we will go with Sunday, and if it is such a fantastic experience that you want more, then we can have a 26 hour union the next day.
So what'll it be? Sunday at 7 or Monday at around 9?