Libby Anne has posted an entry on her blog about that movement which claims that the King James Version of the Bible is the best, the only true Word of God. Since she gave me a mention in her post, I thought I should give her a shout out here – and also share a comment I left on that post. Click through for the broader context.
Here's what I wrote:
Thanks for blogging about this – and for mentioning me in your post! I think you do a great job of highlighting the fundamental (pun intended) problem with KJV-onlyism. It actually represents a rejection of the only sort of Bible there is in any meaningful sense, which is a set of texts which were for the most part copied carefully, but nonetheless imperfectly, and then collected by human beings and turned into a collection to serve as Scripture. For some, this fallible process involving fallible human beings does not meet their own standard which demands a fixed text that is word-for-word precise, and can thus be claimed to be inerrant. And so not surprisingly they have to choose a modern text created since the invention of the printing press, because ones copied by hand in ancient times simply will not do.

This is what Christians who embrace learning and reflection call idolatry – setting up a human image in the place of God, that ultimate which is indescribable and incapable of being tied down in words or images. Because ultimately it is not just the actual Bible that KJV-onlyists have problems with, but also with any sort of God that would fail to provide them with the absolute security and certainty they demand.

And so despite the Bible-loving rhetoric of KJV-onlyism, it is a stance that is about as antithetical to and opposed to the Bible as it is possible to be.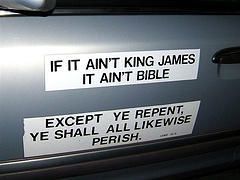 Fortunately I have for the most part been spared having to deal with this sort of KJV-only nonsense. I have no idea how widespread or fringe this viewpoint may be. But it certainly serves as yet another illustration of a crucial point, which needs to be made over and over again until people grasp it: Just because a person or movement speaks in a seemingly positive way about God or the Bible, and uses superlatives, doesn't mean they are speaking the truth. If one's defense of what they believe the Bible ought to be leads them to reject the only sort of Bible there is, or leads them to pretend that this or that translation is something more than it is, then that stance is not merely bizarrely self-contradictory, but an idolatrous setting up of their own imaginary idea of the Bible in the place of the real thing.