I was putting off responding to Tony Jones' recent provocation to progressive Christians to answer the question "Why an Incarnation?", but this cartoon a friend shared on Facebook made me decide to get to it sooner: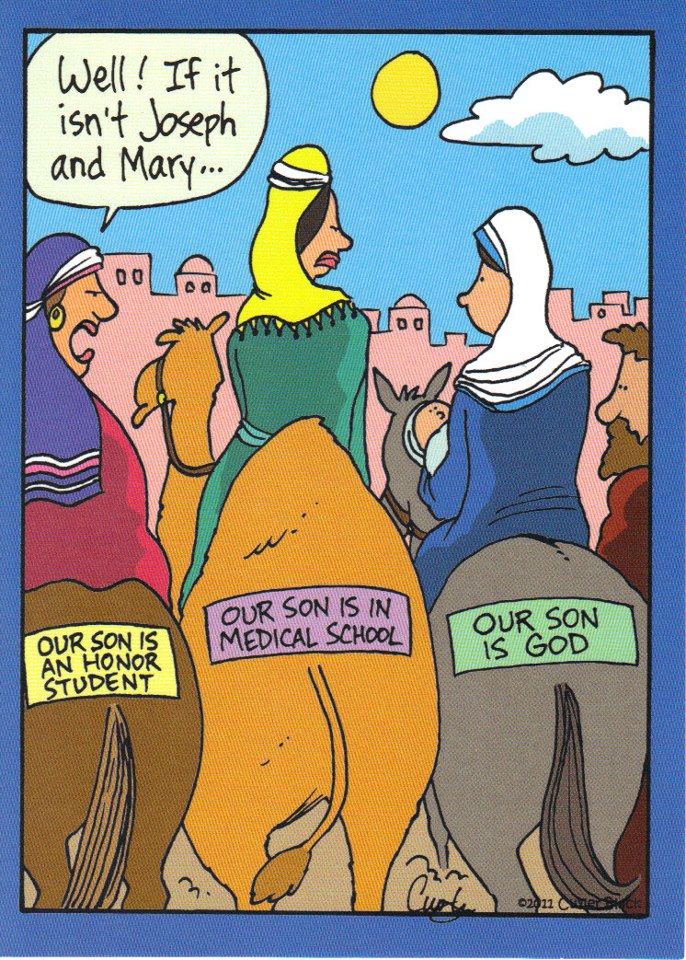 As someone who is not only a progressive Christian, but also a New Testament scholar, the conversation for me must always begin with whether an incarnation before moving on to why. A progressive Christian is one who is not merely open to rethinking things because of contemporary concerns, but also one who is open to returning to the wellspring of Christian tradition to find new resources, and one who is open to input from scholarship. All of those approaches lead to important questions about whether "incarnation" is an appropriate term to use, and even if so, whether it is the best term  for how the earliest Christians saw Jesus and/or for how we think we should view him.
For the author of the Gospel of John, the eternal Word of God has "become flesh" – and that author even has Jesus speak as though conscious of having pre-existed in heaven. But John is the only one of the four Gospels to depict Jesus as speaking in that way. And when we read the Gospel of John and realize just how focused on himself Jesus seems to be there, the contrast with the kingdom-focused proclamation of Jesus found in the Synoptics. Jesus can even seem egotistical.
But then we take historical critical scholarship into account, and realize that the language of the Gospel of John isn't in fact the way Jesus spoke. It is the perspective of Christian faith, which is like the bumper stickers in the cartoon above. If one slaps a bumper sticker on their own car, proclaiming their own success, that gives a very different impression than when a proud parent does so.
Our earliest sources agree strongly about Jesus' humility. Christians then and now have come to glimpse something important about God "made flesh" or "embodied" in the life of Jesus. And if we don't realize that that glimpse of God comes across precisely through and in the midst of Jesus' humility, then we are liable to end up with a very different sense of who Jesus was, and of what God is like. If we think that Jesus really walked around proclaiming himself as the central focus for Christians, then it really won't matter whether you think you've glimpsed God in Jesus because God was active in his life, or because God in some more literal sense 
became human
, or because you think that Jesus' life embodies something important about Ultimate Reality. You'll have missed Jesus'
humility
, and so whether you think primarily in incarnational terms or not, and if so, whatever you happen to mean by the term, it will be at odds with the character of Jesus and of Jesus' God in crucial ways.
Do you think of Jesus in terms of an "incarnation"? Why or why not? And how does your view of him relate to historical study and historical evidence? What role if any do you consider it appropriate/necessary for scholarly study of the Bible to play for Christianity today?
Of related interest, see a repost from Fred Clark in response to Tony's call, and also Larry Hurtado's recent post on early Jesus devotion.