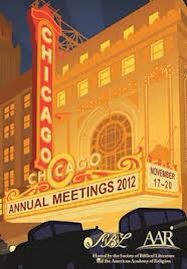 Yesterday morning was the first bit of genuinely free time I have had at the conference, and so I spent some time in the book exhibit and elsewhere, talking with friends. This rest was helpful in preparing for what lay in store that afternoon…
First there was a session on mysticism, esotericism, and Gnosticism, in which April DeConick presented a fascinating argument that the category of "Gnostic" should not be set aside, and genuinely reflects a new current in religiosity/spirituality in the first century CE; and in which John Turner discussed Sethian baptismal rites and their symbolism. (Turner read the late Marvin Meyer's paper on additional parts of Codex Tchacos in the same session in which I presented on the Mandaean Book of John and the New Testament).
Then, in another building, Jennifer Hart gave a paper on the Islamic context of the codification of Mandaean texts,
Then, back in the first building, Jo Ann Scurlock read a paper on the Mandaic Book of the Zodiac.
I was glad to have a short break before Charles Haberl's paper. It looked at the indications in the text on Mandaic incantation bowls that Mandaean scriptures, which we now have only in post-Islamic redactions, existed centuries earlier. Charles made a useful comparison with the Hebrew Scriptures, pointing out that, prior to the discovery of the Dead Sea Scrolls, incantation bowls were among our earliest evidence for the existence of those texts.
Those of us who work in New Testament can be spoiled into a false sense of what it is realistic to expect with regard to the gulf between composition and the earliest manuscript of the work in question.
This morning I attended two papers also somewhat related to the Mandaeans – thankfully both in the same session! The first was by Risto Uro and is about the relation between the John the Baptist and Jesus movements from a ritual perspective. The second was by Gerhard van der Heever and addressed the question of whether John and Jesus were part of a wider phenomenon of ancient Jewish baptizing groups.
I don't think there has ever been a year – at least, not for a very long time – when the Mandaeans have been mentioned so often at AAR or SBL!