This graphic which came my way on Facebook seems to make an excellent point.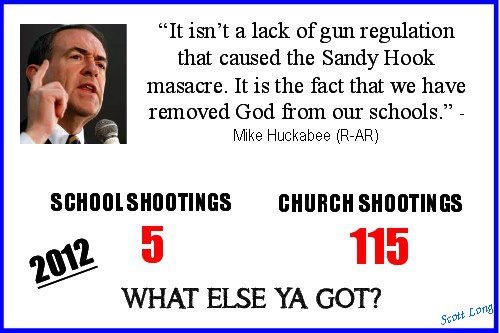 I was not able to confirm that the actual number of shootings in schools was 5, and it seems that that number may include institutions of higher education as well as elementary schools. Whether any religious schools are in that figure I am also not sure. But the stat for church shootings 115 in 2012 – is confirmed by Christianity Today.
There are two possible ways to interpret this.
One is that the alleged connection between removal of God on the one hand, and number of shootings on the other, is absolute hooey.
The other is that, while formal ritualized mention of God has ceased to be imposed in schools, childlike faith (and self-interested faith at exam time) continues to be present. And, conversely, while God continues to be made mention of in churches, God has actually been sidelined and removed by those who claim to be devoted to God.
Either way, there is a lesson for the conservative Christians who make claims about a connection between the two.