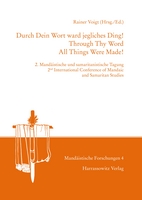 The proceedings of the 2nd International Conference of Mandaic and Samaritan Studies, held in Berlin in 2008, has appeared in print, published by Harrassowitz Verlag. The title is »Durch Dein Wort ward jegliches Ding!«
You can read the table of contents online in pdf format.
A prepublication draft of Charles Häberl's chapter on a Mandaean folktale can be found on Academia.edu, as is a draft of Ionuţ Daniel Băncilă's chapter on a Mandaean version of Psalm 114 found in Qolasta, the Canonical Prayerbook of the Mandaeans.