I wrote the following in a comment on Facebook and thought I would share it here as well:
The principle of "interpreting Scripture in light of Scripture" is a conservative excuse for picking texts that they like and then insisting that other texts cannot mean what they plainly seem to. In this way the rich diversity of Scripture is flattened and the Bible's hands are tied as parts of it are silenced in service of a conservative agenda.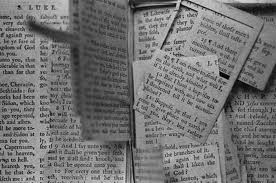 See also Fred Clark's recent post on harmonizing the Bible.