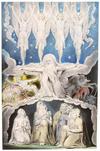 I saw this headline on a post on the ISAW blog today:
Job: Head Librarian
I suspect that I am not the only person in my line of work whose first thought was that this will be some sort of interesting interpretation of the central character of the Book of Job, and only a second later thought that it is more likely a notification about an employment opportunity at the Institute for the Study of the Ancient World at New York University.
If you are a librarian, or know one, this may interest you. But otherwise, any thoughts on how we might interpret the character of Job as a head librarian?