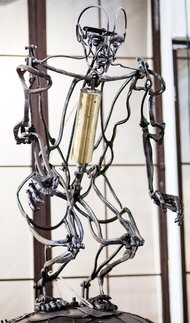 I was intrigued to see the New York Times article today about something called "Robotic Church." While one can find lots of examples of human beings going through the motions, this is about an artist bringing together multiple robotic creations of his, capable of making music, together in one place in Brooklyn to "make a joycul noise" together.
This comes at a great time, as the next meeting of my religion and science fiction class will shift our focus to artificial intelligence. In my chapter in the volume I edited,
Religion and Science Fiction
,
my chapter
looks at what artificial intelligences might make of human religions, and not just the reverse.
Robots can already make a noise that sounds joyful to humans. But can they ever be able to make a noise that expresses joy that they themselves experience.