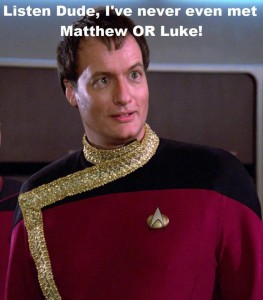 There has been a lot of discussion of Q online recently. The Jesus Blog declared Q to be in critical condition. Keith Reich articulated some points about Q skepticism. Discussion of the subject could even be found on Reddit!
By way of comparison, today I spotted a blog post about the fact that rumors of the death of the Documentary Hypothesis in Pentateuchal studies are greatly exaggerated.
Also, in not entirely unrelated news, Mark Goodacre blogged about a video related to Luke's genealogy and a trailer for a French documentary about the Gospel of Jesus Wife fragment.
Joel Watts presumably subscribes to the view that Mark borrowed from Matthew and Luke, but mainly because he thinks that the Mark in question is a different Mark who has been accused of plagiarism.
And of course, let me link once again to my favorite solution to the Synoptic problem, which I shared here last month.